Chasing Better, Together
Tyson Foods partners with Volvo Trucks on a never-ending quest to transport products more efficiently and reduce environmental impact
Tyson Foods produces one in every five pounds of chicken, beef and pork consumed in the US. That's 19,000 truckloads each week traveling across North America. The volume alone is enough to make transportation a key to their success. At Tyson, the connection to trucking goes much deeper than daily logistics. It represents their heritage.
"Before we spec a truck, we have to spec drivers who will drive the Tyson way."
Phil Van Hook, Tyson Foods' Director of transportation operations
"John H. Tyson is our chairman and his grandfather started the company by running live chickens out of Northwest Arkansas to markets in the Midwest," says Rob Lyall, Tyson's vice president of transportation. From their beginnings as a transportation company in 1935, Tyson expanded first to selling chicks and feed, then to processing, and eventually into one of the world's largest protein producers. Always driven to improve.
Today Tyson believes it plays a critical role in feeding the world. To that end, they have set ambitious goals and strive each day to adhere to five key pillars of sustainability: animal welfare, food, workplace, community, and the environment.
Shared values
Tyson remains a brand rooted in hard work, humility and purpose. That purpose is to feed a growing population, to drive positive change and to make the world a little better every day. It takes sophisticated planning and logistics to manage the multiple dynamics involved in Tyson Foods' supply chain. But it takes an even bolder vision and key strategic partnerships to feed the world sustainably.
Volvo Trucks has become one of those important partners for Tyson. Together they are teaming to use resources more effectively, increase fuel efficiency, and move product more intelligently. The two companies have a set of shared core values that are perfectly aligned. "We need folks like Volvo Trucks pushing the envelope right alongside us," says Lyall.
It's common to hear Tyson team members quote business author Marshall Goldsmith's book What Got You Here, Won't Get You There. The book's theme sums up Tyson's commitment to always improving and has dovetailed seamlessly with Volvo's promise to drive progress.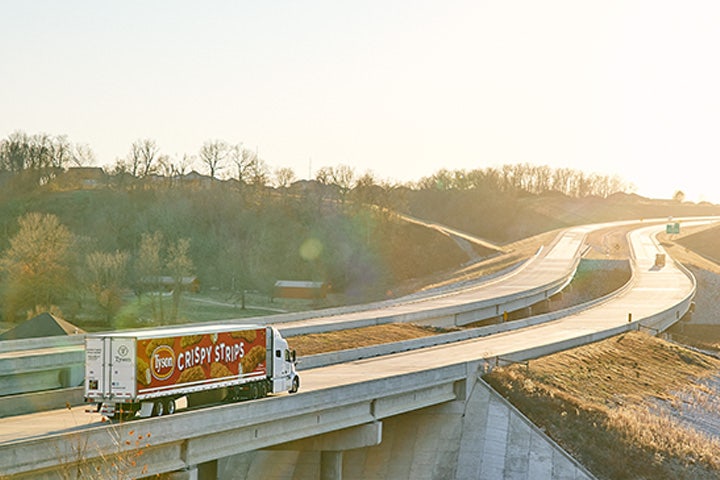 People first
Tyson employs 1,350 drivers in their private fleet. The deliveries to grocery stores, restaurants, and food service operations include almost every type of route: small rural roads, interstate highways, and difficult to navigate cities. Countless customers and stakeholders all depend on Tyson to get fresh food where it needs to be, on time and without disruption.
"Working alongside Volvo each day, putting our faith in innovation, allows Tyson to reach fuel efficiency levels that advance the company's sustainability goals for years to come," says Justin Kissinger, senior manager of asset procurement transportation.
Kissinger also notes an openness to new ideas. "In Volvo, we have a partner that is unafraid to go there with us," he says. "In terms of integrating and adapting new technology, Tyson's focus is always on finding new ways to drive fuel efficiency without compromising driver comfort or satisfaction. The question is how to balance innovation while also keeping the driving force happy and effective on the road? Working with Volvo, we know we can get there."
The 8-mile challenge
About three years ago, Kissinger gave national accounts manager Glenn Vick and the Volvo engineering team a challenge. He said, "I need Volvo to help us get 8 miles per gallon of moving fuel economy out of our trucks. That's your goal. That's your target. Can you get it done?"
Glenn and the team had a simple response, "Challenge accepted."
The two companies worked together to introduce new technologies and improvements. This has led Tyson to make the Volvo VNL 740 powered by a D13 Turbo Compound engine a preferred tractor in their long haul fleet.
" Working alongside Volvo each day, putting our faith in innovation, allows Tyson to reach fuel efficiency levels that advance the company's sustainability goals for years to come."
Justin Kissinger, Tyson Foods' senior manager of asset procurement transportation
"We work with Volvo to spec equipment that will put us on a continued path toward our end goal—better fuel economy, better efficiency, and better durability. Our two companies continue to learn from one another, and I feel that Volvo truly listens to our needs," says Kissinger.
"Turbo Compounding was just the beginning," adds Vick. "We've worked together to improve aerodynamics by shortening the wheelbase and minimizing the trailer gap. Tyson has entrusted us to spec their new vehicles with the FlowBelow Tractor AeroKit™, which includes a system of wheel covers and fairings designed for improved aerodynamics and greater fuel efficiency."
The ongoing effort is paying off. Working with Volvo in the last five years, Tyson has achieved an annual goal of 2% improvement in fuel economy across the entire fleet.
Looking ahead
"Volvo helped us meet and exceed expectations," says Justin Kissinger. "They knew what we needed in terms of fuel economy and sustainability, and they helped us go above and beyond our 8 miles per gallon goal and threshold.
"Our next target? 10 miles per gallon."
Never resting. Always improving. Isn't that what chasing better is all about?
Phil Van Hook knows a thing or two about meeting
Tyson's transportation challenge head on. After more than two decades with Tyson, the director of transportation operations says it always comes down to the people behind the wheel. "It starts with the driver. When we recruit and train drivers, we look for men and women with strong morals and good character—individuals who can uphold our commitments to safety, reliability and customer service."
"Before we spec a truck, we have to spec drivers who will drive the Tyson way," says Van Hook. "Once we have the right team of drivers in place, we then take on the task of spec'ing vehicles." Safety and reliability are paramount, reports Van Hook, as the potential cost of driver injury, downtime and truck repair are too high to contemplate.
Tyson driver trainer James Ellis adds, "From equipment improvements to driver comfort solutions, every upgrade that Tyson has made to their trucks has always been designed for the betterment of drivers."
" We need folks like Volvo Trucks pushing the envelope right alongside us."
Rob Lyall, Tyson Foods' vice president of transportation
In North America alone, Tyson runs more than 1,100 tractors in their private fleet to accommodate the 19,000 shipments they deliver to customers each week. Their private fleet, which includes 649 Volvo units, covers 40% of their overall freight moves. "With that kind of impact, and with the miles that need to be covered each day, it's critical that we have the right transportation partner—one that places a high value on safety and efficiency," according to Rob Lyall.
Tyson Foods
**Based in:**Springdale, Arkansas
Territories covered:
Global

**Founder:**John W. Tyson
**Company started:**1935

**Number of employees:**140,000+ globally (1,350 North American Drivers)

**Number of trucks:**1162 (649 Volvos)

**Major loads:**Refrigerated goods for major brands including Tyson Chicken, Jimmy Dean Sausage, Hillshire Farm, Ballpark Franks, and ibp Trusted Excellence
Related Content
Driving Progress
Get the latest product information, Volvo Trucks news and updates delivered. Sign up below.
ExceedingExpectationsSignup