When it comes to hauling exotic vehicles for car enthusiasts, celebrities and pro athletes, TFX International chooses Volvo.
When you're hauling dream cars, image matters. That's why TFX International Specialized Vehicle Transport runs an all-Volvo fleet, delivering exotic vehicles around North America. Walter Horodnyk started his company nearly 20 years ago. At the time, he operated a successful freight brokerage, but when a salesperson asked him if he could move a car, he thought, Why not? "We moved one car and got 400 calls the month after," Horodnyk says.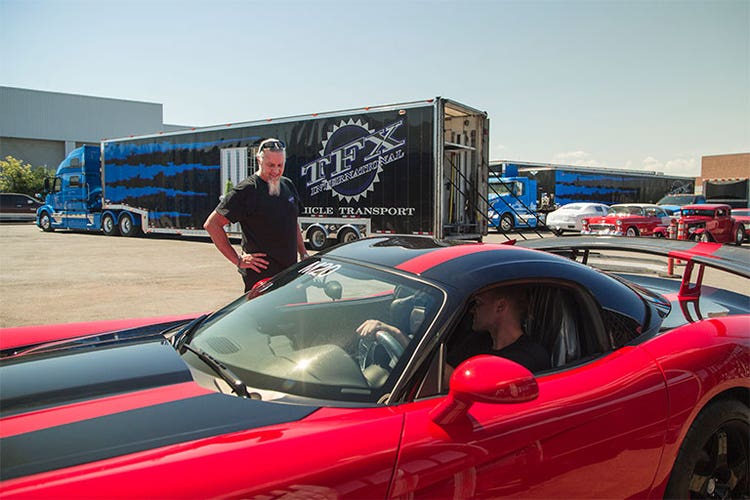 Customers rely on TFX to transport their precious cargo, like this Dodge Viper.
Today, the Ontario, Canada-based carrier handles about 12,000 cars, trucks, and motor-cycles each year. Its portfolio of clients includes every automobile manufacturer you can name — from Ferrari to Ford, Bentley to Rolls Royce — as well as car collectors, movie stars, pro athletes, and even car enthusiasts who've been lucky enough to acquire the vehicles of their dreams. Every one is handled like a prized possession. "From day one, I wanted TFX to be the company people look to when moving vehicles that are important enough to worry about," Horodnyk says. "Whether it is your personal pickup truck or a $10 million vintage Ferrari, I make sure we treat each vehicle with the respect it deserves. "The secret sauce, Horodnyk says, is attention to detail. A strong brand identity is one detail that some other trucking companies overlook. That is why Walter began to switch his fleet to Volvo in 2007. "We wanted to make sure our trucks and trailers were as nice as the automobiles that we transport. As a result, when I went to look for the perfect truck, Volvo fit that need to a tee."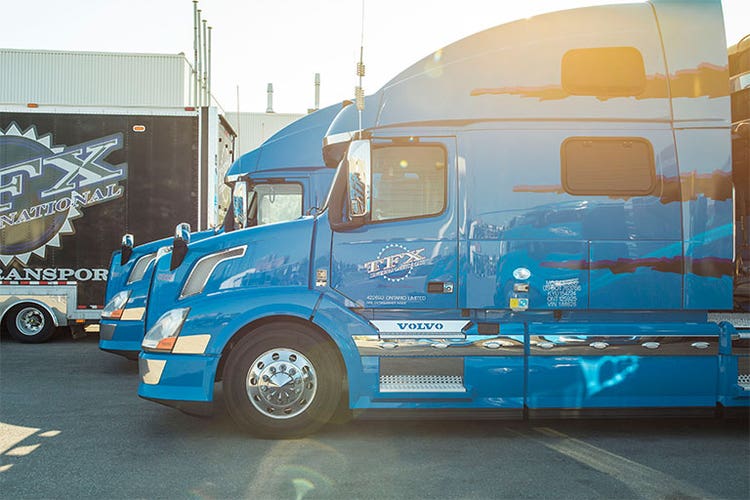 TFX operates strictly Volvo VNLs, which are shown here with its head-turning black and turquoise graphics.
Already appreciative of Volvo's prestige, Horodnyk fell in love with its sleeper truck's roomy interior on the spot. He knew his drivers would too. Nearly a decade later, TFX operates 25 VNL tractors with Volvo D13 engines paired with specialized trailers. The enclosed low-belly trailers have fully hydraulic tailgate lifts, low-angle loading ramps, and what Horodnyk calls a "Ferrari floor." The floor, which moves up and down 18 inches, was originally developed by TFX as a solution for moving very low-clearance sports cars. Decked out with attention-grabbing black and turquoise graphics, the trucks and trailers "are head-turners," Horodnyk says with pride in his voice. "The Volvo brand is a high-end brand, and that enhances our customers' experience." Walter's son, Adam, agrees. Adam started at TFX when he was just 14 years old and now works to ensure that his father's original vision is carried out with every contract. "When we pull up with that beautiful Volvo truck, it's a spectacular sight for people," Adam says. "It automatically gives them faith that we know what we are doing, because we look the part. And looking the part is important in an image-based business like ours." But looking good isn't the only reason TFX continues to choose Volvo. An expansive Volvo dealer network across Canada and the United States is another reason. Also on the list: driver satisfaction and cutting-edge technology. "We run Volvo trucks because they are a great value. It's a beautiful truck, the drivers love them, and they get great fuel mileage," Adam says. And that's just good business.
\
TFX International
Established: 1987 in Toronto, Canada
Owners: The Horodnyk family
Employees: 46 (including drivers)
Trucks: 25
Transport assignments: Carrier of high-end vehicles and, motorcycles, including classics, exotics and luxury cars. Working directly with end users, OEMs and dealers.
The Fleet: Fleet includes 1, 2, 3 and 6-car enclosed, hard-sided, automobile transporters equipped with hydraulic lift gates and floors for level loading. Specialized trailers are also equipped with state-of-the-art security and tracking systems.
The Cars: TFX hauls for all the major car brands, including Ferrari, Bentley, Rolls Royce, Maserati, Aston Martin, McLaren, Ford, Chrysler, Honda, Acura, Nissan, Volkswagen, and BMW.
Related Content
Driving Progress
Get the latest product information, Volvo Trucks news and updates delivered. Sign up below.
ExceedingExpectationsSignup