Concrete, not blood, runs in the veins of the Jahna family, which traces its roots in the concrete business back to 1925. The family's third generation, experts in operating in Central Florida's extreme terrain, remains hands-on in the business to this day.
Representing the family's second generation in the concrete business, Frederic W. Jahna, Sr., relocated from Lake Wales to Avon Park, Florida in 1950 to start his own company, Jahna Concrete. Today, the business remains family owned, and Fred's widow, along with six sons and one daughter, manage the business.
Serving six counties spread across Central Florida, Jahna currently owns facilities in Avon Park, Lake Placid, Sebring and Zolfo Springs. At those facilities, Jahna operates four ready-mix plants, two concrete-block production machines, a brick yard, and a steel rebar fabrication facility.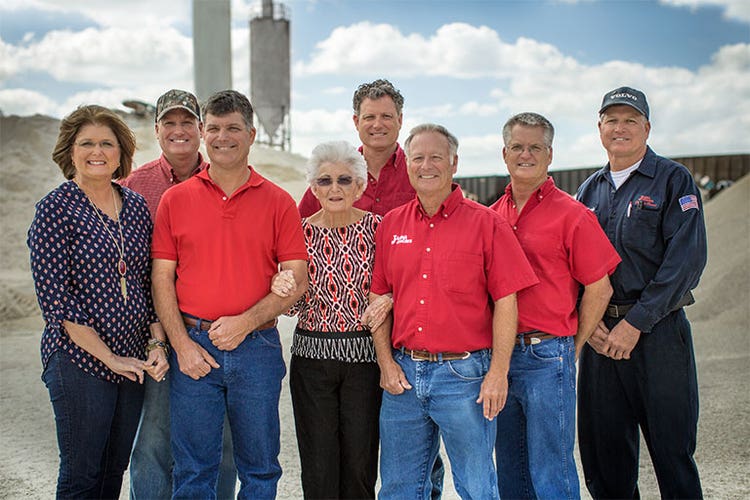 Aside from hauling wet concrete in 18 ready-mix trucks, Jahna's four flatbed rigs haul concrete blocks, pre-cast concrete products, steel rebar and palletized construction materials. Four dump trucks haul construction materials including sand, gravel, fill-dirt, clay, road-base and lime rock. Two tanker rigs are used to haul dry cement mix. They're a one-stop shop; if it's related to concrete, Jahna sells and hauls it.
However, if you had set out to build a traction torture test to evaluate trucks, you couldn't do much better than the area served by Jahna Concrete.
"Within a ten-mile radius of our Avon Park headquarters, operating surfaces can range from paved roads, to gravel driveways, to unimproved haul-roads, to off-road conditions including clay, mud, muck, peat and sugar sand, Farris Jahna, the company's veteran maintenance supervisor, says. "On top of the poor operating surfaces, there's the uncooperative Florida weather."
With the exception of the paved roads, virtually every surface on which most of Jahna's trucks operate can change from difficult to impassable after rainstorms that pop up without notice.
To cope with these traction nightmares, Jahna's first line of defense is a central tire inflation system that lets drivers drop the tire air pressure on their rear axles down to as low as 30 PSI, allowing the tires to "float" across less-than-ideal surfaces. Where many competitive fleets use front-drive axles to cope with the poor terrain, the tire inflation system allows Jahna to avoid that complexity, at about half the cost.
Before adopting the tire inflation system, Jahna's 6x6 ready-mix trucks routinely carried a pair of military-style "landing mats" to help the drivers get the trucks unstuck after sinking in sand or mud. Adding the tire inflation system enabled the company to switch from 6x6 trucks to less costly 6x4 trucks.
"When we go into a rough jobsite, the drivers can push a button in the cab and drop the air pressure on all eight rear tires from 100 PSI to 30 PSI in just three minutes, creating a much bigger tire footprint," Farris says. "At the lower tire pressure, a 6x4 truck will go places that a 6x6 truck running 100 PSI in the tires just can't get to."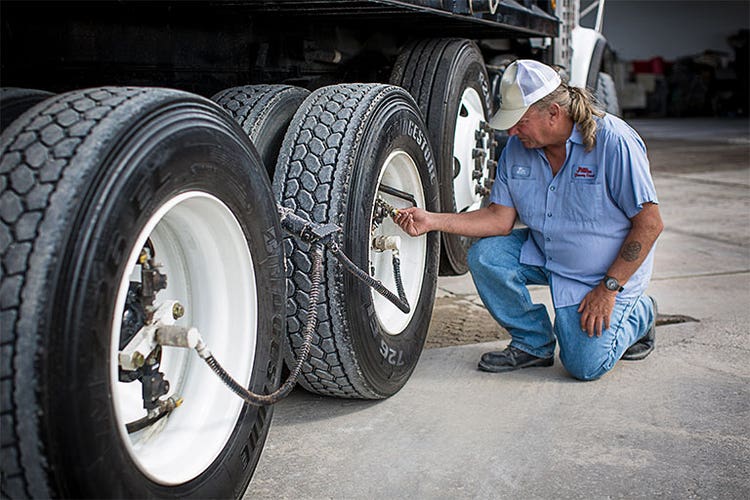 Given the worst-case terrain in which Jahna's trucks operate, their fleet was the perfect candidate to test the new I-Shift with Crawler Gears. Jahna worked with Nextran Truck Center in Tampa, Florida to spec' their Volvo VHD with I-Shift with Crawler Gears because they were stable customers that could be counted on for reliable feedback. For operations like Jahna's, the lower gears help with startability when heavily loaded on steep grades, but also because the driver can still manually select the gears to reduce torque and spin-out when starting on poor traction surfaces.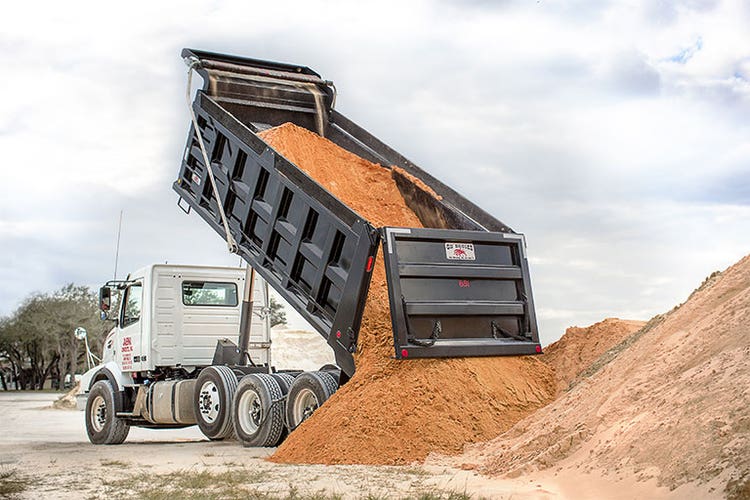 Considering Jahna's extreme operating environment, one might expect a few problems or a learning curve when testing a brand-new transmission ahead of its public debut. So far, the biggest impact on senior driver James Angeletti has been what is notably missing. "When I first started driving the I-Shift with Crawler Gears, I kept trying to push the clutch in, but there's no pedal there," Angeletti explains.
The cab of Angeletti's VHD 200 dump truck is a busy working environment, so the Jahna team was able to provide Volvo with valuable, real-world insight regarding placement of the shifter, PTO switch and the gear selection display.
When operating typical trucks in sand pits, especially Central Florida's "sugar sand," getting stuck isn't a matter of "if," but "when." So it's a fairly common occurrence for one truck needing to be pulled out by another. This is where the I-Shift with Crawler Gears is an added benefit for Jahna. "The other day, a truck without the I-Shift with Crawler Gears just spun out when trying to pull out a loaded truck that had become stuck," Angeletti says. "The I-Shift with Crawler Gears allowed the truck to move at a controlled, extremely-slow speed, making it easy to pull out the loaded truck."
Jahna Concrete
Location: Avon Park, Florida, with four locations serving six Central Florida counties.
Company: Founded in 1950; nine members of the family have a share of ownership.
Operations: Ready-mix, block, aggregate and rebar supply.
Related Content
Driving Progress
Get the latest product information, Volvo Trucks news and updates delivered. Sign up below.
ExceedingExpectationsSignup