Saturday is game day for college football. For Hilldrup, making sure that game happens is an important, behind-the-scenes task.
It's another Saturday in autumn. Players have put on their jerseys, shoulder pads, and helmets. Coaches are ready on the sidelines, headsets in place. Game day — what college football fans across the country have been waiting for — is here.
Like any major event, we don't see the hundreds of people who work behind the scenes to make these games happen. For the football programs at the University of Virginia (UVA) and the University of North Carolina at Chapel Hill (UNC), Hilldrup is the team responsible for bringing game day to their fans.
Based in Stafford, Virginia, Hilldrup has been in the moving and storage business for more than 100 years. Today the company mainly provides these services for families, corporations and government agencies — including both domestic and international moves. However, through a unique partnership with both universities, Hilldrup is the official sponsor of the UVA and UNC football trucks.
"We're happy to be in the background, but without our Volvo trucks, the games wouldn't happen."
Harold Wood
senior vice president of risk management
Hilldrup's relationship with Virginia football began in 1996 when a box truck carrying the team's equipment had a problem on the road. The driver was on the way to Tallahassee, Florida, for UVA's upcoming game with Florida State, and Hilldrup was called in to finish the trip.
In 1998, UVA received their first box truck from Hilldrup. Since then, Hilldrup has transported UVA's equipment to every away game and also to the Cavalier's home field, Scott Stadium, located a mile from campus. Just last year, Hilldrup started hauling UNC's equipment.

Pete Fillis, professional truck driver for Hilldrup, and Matt Althoff, director of equipment room operations for UVA, getting the truck ready for a 50 hour road trip to Eugene, Oregon.
Instead of the box trucks from years past, Hilldrup hauls the gear using Volvo VNLs and 53-foot trailers, decked out in schools' colors and logos. These traveling equipment rooms are loaded with players' jerseys, helmets, cleats, and footballs — all the essentials for game day. The trailers also contain rain jackets, uniforms for the coaches and other staff, video and communications equipment, and supplies the team trainers might need. Plus plenty of Gatorade and snacks.
"We're hauling gear for about 200 people in all. Everything they need, head to toe," says Jason Freeman, equipment manager for the Tar Heels and a member of the university's football program since 1998.
For the equipment managers, staying out of the spotlight is one of the main goals. "We are behind the scenes, and we relish being in that role," says Matthew Althoff, director of equipment room operations for UVA. "If we are recognized, it unfortunately means we forgot a helmet or misspelled a player's name."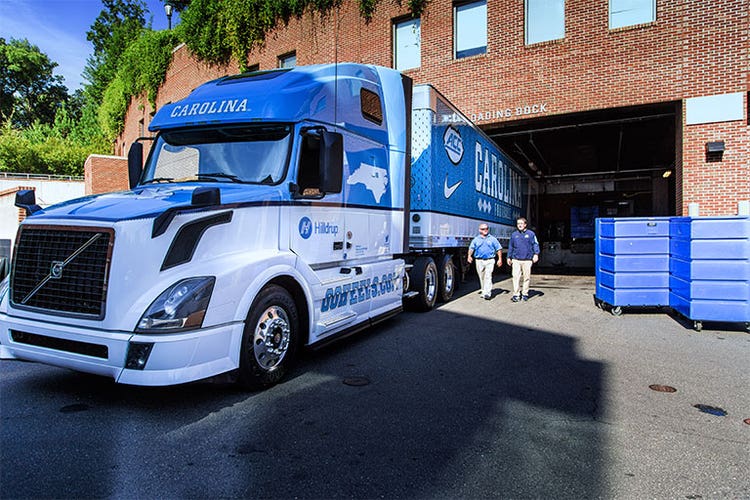 "It's vital that we get to the opposing stadium with the equipment on time, so there's certainly pressure."
Ricky Overman
professional truck driver for Hilldrup
The trucks usually arrive at the opposing team's stadium a day prior to the game. On game day, the equipment managers and their staff get to the stadium about five hours before kickoff to set up. When the players come into the locker room, everything they need is carefully laid out. It's an important part of game day preparations that only the players and coaches see, but Freeman and Althoff are happy to do it.
"We see the players every day, and they appreciate what we do," Freeman says. "When you're part of it, you have a feeling of pride knowing you helped make the game happen. Everybody works together to make the team stronger."

Jason Freeman, head football equipment manager for UNC, and Ricky Overman, professional truck driver for Hilldrup, getting the truck ready for an away game in Champaign, Illinois.
Althoff, who has been part of the Cavalier football program for 20 years, says the players and the coaches make him and his crew feel like part of the team. "We celebrate their victories with them and feel the pain when they lose."
That team spirit extends to the Hilldrup drivers, who wear the same attire as the coaches and staff and watch the game from the sidelines. They stay in the team hotel and, like the equipment managers, they're invited to post-game celebrations. "Our drivers really look forward to the season," says Joe Coffman, senior vice president of branch operations for Hilldrup. "You won't find more passionate fans."
For the Hilldrup drivers, the most rewarding part of their job is the feeling of being part of the team. "It's vital that we get to the opposing stadium with the equipment on time, so there's certainly pressure," says Ricky Overman (UNC), professional truck driver for Hilldrup. "Without us, they can't play," Overman says with a grin.
With so much pressure, it's important to have a truck that the teams can rely on to get to away games. Pete Fillis (UVA), professional truck driver for Hilldrup, knows this all too well. "I've been driving for Hilldrup and UVA for about 22 years," Fillis says. "Without Volvo's dependability, we could never make it out to away games or get the job done properly."
Hilldrup
Founded: 1903 in Fredericksburg, Virginia. R.G. Hilldrup started a horse and carriage company hauling baggage for students attending a local college.
President and CEO: Charles W. McDaniel. The company's fourth president and the third McDaniel to lead the company. He was a starting linebacker and captain of the UVA football team in the mid-1980s, setting a school record with 130 tackles.
Family-Centered: Son Charlie McDaniel and daughter Jordan McDaniel joined the company in 2015 – the first time four members of the McDaniel family have worked for Hilldrup at the same time.
Employees: 560 employees, including 230 drivers.
Locations: Headquartered in Stafford, Virginia, with six additional locations in Georgia, Florida, North Carolina, South Carolina and Virginia.
Business segment: Domestic and international moving, storage, relocation and logistics services for residential, corporate, commercial and government customers.
Equipment: 200 tractors, including Volvo VNLs.
Football trucks: Hauling sports equipment for UVA since 1996 and UNC since 2015.
What's inside the football trucks: For both UVA and UNC, it's vital that the truck is there on time for the away games. The Volvo truck delivers jerseys, footballs, cleats, helmets, shoulder pads, coaches headsets, and much more to each away game.
Related Content
Driving Progress
Get the latest product information, Volvo Trucks news and updates delivered. Sign up below.
ExceedingExpectationsSignup