No Limits
The Pilbara Heavy Haulage Girls are training a generation of women to be professional drivers Down Under.
Western Australia (WA) is home to vast stretches of open, red-rock landscape…and very few people. The province is nearly four times the size of Texas with a tenth of the population.
Tucked beside the Indian Ocean on Hwy 1 in the northern part of WA is the town of Karratha. You probably wouldn't expect to find one of the most groundbreaking trucking operations on the planet in this community of less than 20,000. Thanks to Heather Jones, you'd be wrong.
Heather and a small group of women drivers founded the Pilbara Heavy Haulage Girls (PHHG) in 2014. PHHG is a not-for-profit training program giving women the know-how to start a career in trucking. They train drivers and operate an active haulage company to provide real-world experience. It's the only organization on the continent dedicated to providing professional development opportunities and career pathways for newly licensed female truck drivers.
Breaking barriers
Jones knew she'd be challenging some stereotypes as she first climbed into a tractor to drive heavy-haul loads in 1994. Ninety-nine percent of Australian truckers at that time were men. However, she'd grown up watching her dad drive and it didn't take long to figure out it suited her perfectly.
"I really love being out on the highway," says Jones. "I really love the peacefulness. I really love the scenery that we can have a look at every day. Wake up in the morning. Putting on your billy. Boiling a cup of tea. Watching the sun come up, listening to the birds tweeting. I can't think of anything better than that."
Nearly three decades ago, Jones had just divorced and was looking for a job to support herself and her daughters, who were just 4 and 5 years old. A friend suggested she look for a job as a truck driver. Soon she landed a driving job where she could take along her children. For the next seven years, Jones and her two girls, Kersti and Chelsea, lived on the road, traveling around Western Australia delivering cargo to shipping ports and fertilizer to local farms.
Jones 'home-schooled' the girls in her truck. "We spent seven years pedaling around WA. Living a life that we were really, really happy with," she says. "We were a novelty to start off with. People wanted to see if we would actually make it."
Kersti Jones is still amazed, "I look up to mum immensely. I have no idea how she was a single mum who raised us both, home schooled us both, and accomplished all of this."
Helping other women
Heather gained respect in the male-dominated trucking community and after a decade driving for others, she founded Success Transport in 2004. This naturally led to making connections with other females in the trucking industry.
"When we'd get together, it was just natural to talk about life and the challenges we faced in the industry," says Jones.
They would talk about the 'chronic' shortage of female toilets, the dirty shower facilities, and lack of nutritious food options on the road. How all the clothing and uniforms were made for men and the issues of physical labor that required greater upper body strength.
The informal network of female drivers got organized in 2014, when they learned of an Australian government appeal for foreign truck drivers to work on the continent. Jones and her friends couldn't believe the claims which said women didn't belong behind the wheel—and they started to think of ways to increase their visibility. The result was the Pilbara Heavy Haulage Girls.
"We had no issues with foreign drivers whatsoever. We need more truck drivers, but it specifically said that women don't drive trucks," says Jones. "We decided we needed to educate the industry and road users that we can do the job. We need as many drivers as we can get and there's no reason women can't do the job."
Initially PHHG operated as part of Success Transport, training anyone who needed the skills and know-how to get a job as a road train operator.
"If you don't know what you don't know, no one's going to give you a job. All the jobs then were advertising five years' experience or more and we wanted to give people somewhere to start," Jones says. "That was an especially big barrier for women."
It wasn't long before their efforts were getting noticed. Within two years of starting the program, Heather was recognized for the Most Outstanding Contribution to the Transport Industry by the Australian Trucking Association.
A family affair
Today Kersti Jones is 33 and her sister Chelsea is 32. Both of them are drivers in their own right, and together they are proud to work with their mother at PHHG.
"Changing the perception of truck drivers is something I really enjoy, because there is that perception people have of how you're supposed to look and that it's purely a man's job,' says Chelsea Jones. "I think when other children see that there are little girls, teenage girls, adult girls, old nannas doing it, then it actually makes it feasible for them."
It's no exaggeration to say Heather has helped women of all ages get into trucking. Her mother earned a license to drive pilot vehicles when she was 60, so she could escort Heather's massive, oversized loads. She was still known to get behind the wheel of a truck into her 70's.
"I always say that trucking is well and truly in our blood. It's in our DNA," laughs Chelsea.
Relying on Volvo
One of the most important training tools at PHHG are their Volvo FH16s. The bright, Pilbara pink cabs are symbols of the partnership between Volvo Group Australia and PHHG.
"The advancements we now have in these trucks are incredible. The truck is safer, it's easier to drive, it's quieter, it's better ergonomically for your body," says Jones. "I also say if you really, really are concerned about your drivers, wouldn't you put them in the safest truck on the road? And that's how I feel about Volvo. It's one of the safest trucks on the highway and that's why we choose them.
The partnership provides some of Volvo's most advanced equipment to PHHG. This has allowed them to grow both the training program and their active hauling business in a really demanding environment. "This is really the toughest trucking on earth. You've got all the challenges of being remote—the heat, the weight, the distances, and nothing in between," says Jones.
Full circle
Heather Jones' personal experience showed that trucking can be a lifeline, and now she and her daughters are paying it forward to the drivers trained at PHHG. "Life may have thrown them some curveballs, but we're often able to help them change their lives. They're really empowered by what they've been able to learn with us and then take it on board. I think it really is a mindset to change your destiny."
"We decided we needed to educate the industry and road users that we can do the job."
Heather Jones, founder, PHHG
"I always say that trucking is well and truly in our blood. It's in our DNA."
Chelsea Jones, PHHG driver and daughter of founder Heather Jones
COMPANY PROFILE:
Pilbara Heavy Haulage Girls
Based in: Karratha, WA
Founder: Heather Jones
Company started: 2014
Region covered: Hwy 1 in the northern part of WA
Major loads: Delivering cargo to shipping ports and fertilizer to local farms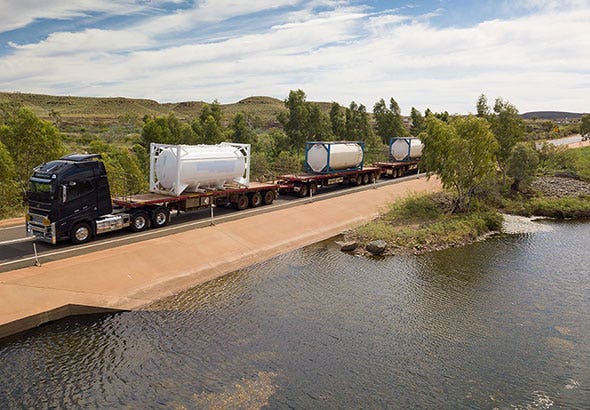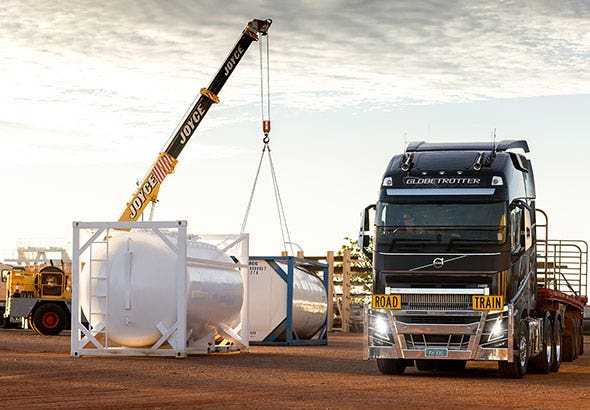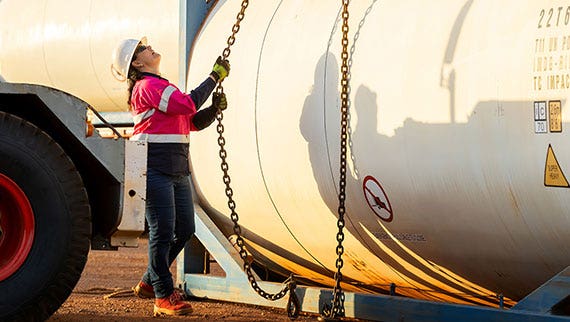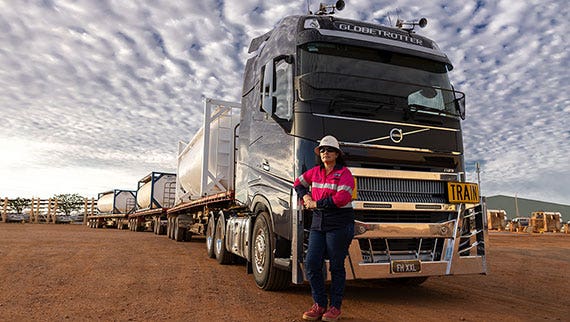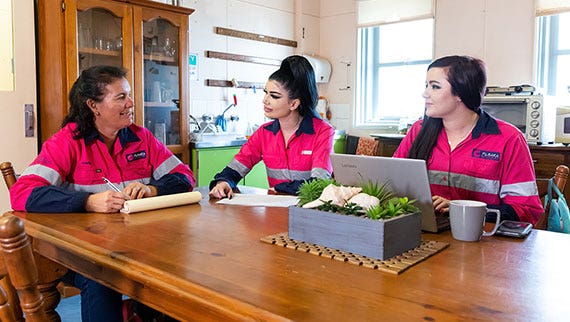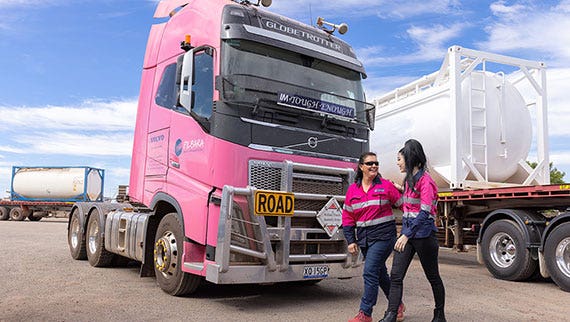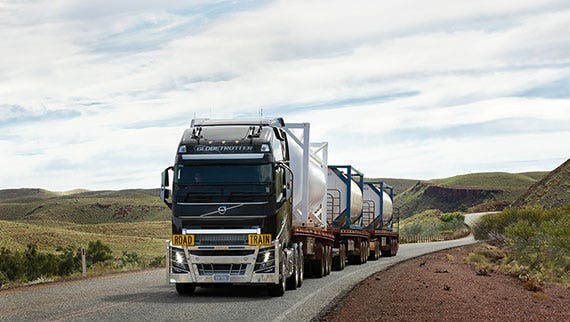 Caption: One of the most important training tools at PHHG are their Volvo FH16s. The bright, Pilbara pink cabs are symbols of the partnership between Volvo Group Australia and PHHG.
In the 1990s, Kersti and Chelsea Jones spent seven years on the road being homeschooled by mom Heather in the truck. Now all three work together for Pilbara Heavy Haulage Girls.
Related Content
Driving Progress
Get the latest product information, Volvo Trucks news and updates delivered. Sign up below.
ExceedingExpectationsSignup