Tankstar USA smooths its economic route with Volvo Financial Services.
With roots in a family-owned trucking operation dating back to 1913, the Tankstar family of companies has the recipe for success over the long haul. Unique amongst most bulk haulers, Tankstar hauls both liquid and dry bulk cargo, everything from acid to cement powder. "If it comes out of a hose, we'll haul it," says Tankstar President Jack Schwerman.
Also unique is the diversity of cargo hauled by the company over the course of a century. After starting in agricultural hauling and branching out into construction materials, Schwerman's fleet was pressed into service hauling bomb casings during WWII. Strangest of all was an attempt to deliver bottle caps to Milwaukee's beer industry, though the bulk transfer process proved too rough on the caps' logos.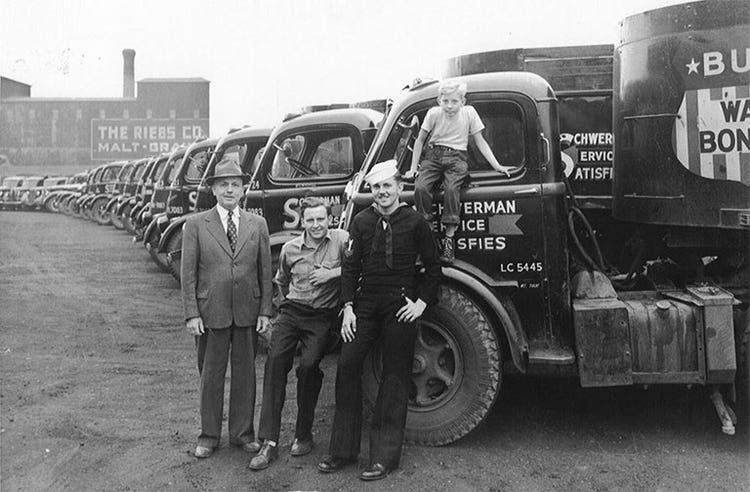 Fred Schwerman Sr. (Jack's grandfather) Fred Schwerman Jr. (Jack's father) Uncles, Richard and Carl Schwerman
Spec'ed for minimum tare weight and maximum reliability, Tankstar operates 182 Volvo VNL models among its 781-truck fleet. The trucks are equipped with upgraded air compressors and/or PTO-driven pumps for pressurized off-loading.
Schwerman learned early on that trucking is tough. After spending a rainy Saturday airing up tires, his father reminded him, "This is a trucking business. Once in a while you are going to have a day like this," questioning his determination. "Dad, I'm fine! I'm happy to be in the business," Schwerman replied.
"If it comes out of a hose, we'll haul it."
In the intervening 50 years, that determination has served Schwerman well, navigating through many economic cycles. Along with determination, today he relies on a close relationship with Volvo Financial Services (VFS) to help smooth out economic cycles. "A few years ago, for tax purposes, we needed to do some finance leases and VFS quickly came through for us," said Schwerman.
"VFS has been very helpful, they have a reasonable amount of documentation, we can call them up and close our deal in very short order," Schwerman explained. "Volvo, with the help of VFS, is the most streamlined and painless of all of our vendors."
Company: Tankstar USA
Location: Headquartered in Milwaukee, Wisconsin, with 29 terminal locations across the Eastern U.S. and Texas.
Company: Formed in 1987, a holding company for Schwerman Trucking (founded 1913), Rogers Cartage (founded 1933), North American Bulk Transport (founded 1953), and Bulk Logistics (founded 1985), each operated as independent fleets.
Operations: Liquid and dry bulk fleets operating nationwide.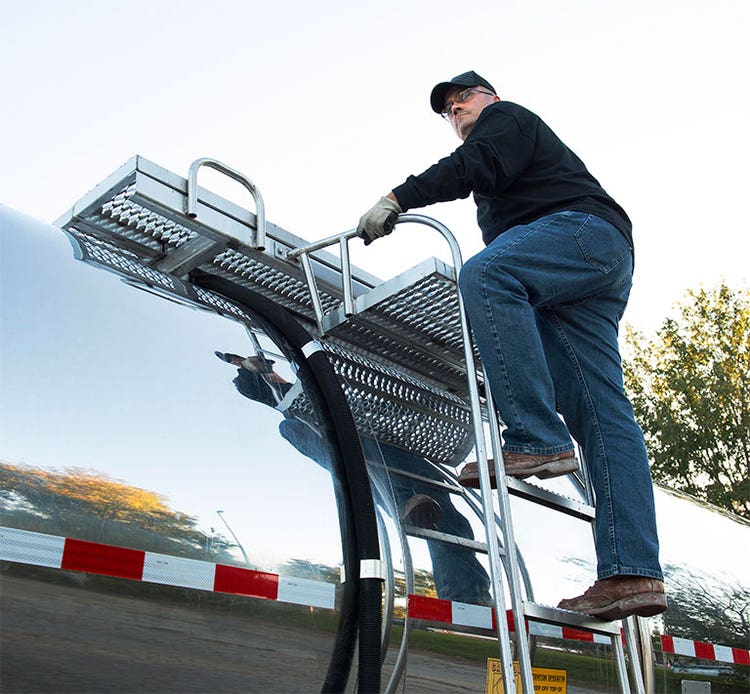 Ronald Hackney, professional truck driver for Tankstar USA checks the hoses in one of his bulk haulers powered by Volvo Trucks.
Related Content
Driving Progress
Get the latest product information, Volvo Trucks news and updates delivered. Sign up below.
ExceedingExpectationsSignup