Before designing the new living and driving environments for the VNL and VNR series trucks, Volvo sat down and talked with hundreds of commercial drivers.
How many suggestions and comments can some 500 real-world truck drivers make when asked what they would like to see if they were designing the interior of a truck? Plenty, and most for very good reasons.
It all began several years ago when Volvo hit the road to speak with professional drivers, hosting "driver clinics" at truck stops.
Fred Whitt, director of product management for Volvo, says he was pleasantly surprised by the amount of detail the drivers would go into.
The professional drivers were asked not only about themselves and their jobs, but also about what they take with them on the road, and what they like and dislike about the current driving and living environments in their trucks. Afterward, many drivers were even proud to show off the trucks they drove, representing every manufacturer to drive home their points.
Jason Spence, product marketing manager, says the Volvo team spent one to two hours with some drivers, resulting in reams of information.
"I would say that the clinics gave us the best understanding of how trucks are used because they allowed us to spend time with the drivers," Spence says.
Armed with this information, this team and Volvo's designers sat down to begin the real work: coming up with new living and driving environments, right down to the cup holders. Yes, even cup holders.
It turns out cup holders were one of the most mentioned items by drivers in these surveys. The result was not just any new cup holder, but one that incorporates a modular rail design, allowing different size drinks, up to four — or it can be configured to hold other items and is even removable.
"It may seem like some small details, but they are very important to drivers," Whitt says.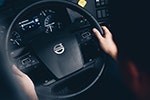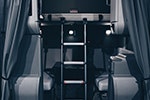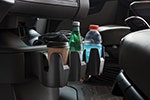 This attention to detail and listening to what drivers wanted also led Volvo to develop a bunk bed that tilts upward to nearly a 45-degree angle. Why? Drivers said they want their bed to be more than a place to sleep, but also a place to relax, much like a recliner at home.
"We wanted to have something that allowed the driver to easily get in and unwind at the end of the day, but be comfortable enough that they could just fold right back down when they were ready to go to bed," Whitt said.
Every decision made about the new interiors was filtered through the drivers' eyes.
"Our paramount objective was to look at the construction of the driving and living environment from how a driver would see it and how they wanted everything arranged," Whitt explains.
This also included the seats, which went through numerous designs and prototypes that were field tested, all designed to make drivers as comfortable as possible.
"We wanted to make the driver's work environment as comfortable a work space as we could," Whitt says. "And it's not only the seat, it's also the human-machine interface, with the steering wheels, adjustment, and the layout of the switches and controls that were mission critical."
"The Driver Environment Survey is the most valuable customer input from someone who actually operates the vehicle I've been exposed to."
Fred Whitt
Director of Product Management
Related Content
Driving Progress
Get the latest product information, Volvo Trucks news and updates delivered. Sign up below.
ExceedingExpectationsSignup