Joe at the wheel. Jayne by his side.
THE ASSIGNMENT story

Joe at the wheel. Jayne by his side.

A pink truck in British Columbia pays tribute to a lifelong partner and to cancer sufferers, everywhere

Her name is Pinkie. Someone initially tried calling her the Pink Panther but, ultimately, that didn't stick. She's simply, Pinkie.

Joe Demoors, a career truck driver with LTS Transportation, drives Pinkie each day on his daily runs from a sawmill in Port Alberni, British Columbia, to a barge in Nanaimo where he unloads paper for newsprint and high-gloss magazines. It's a run he's done thousands of times over the years and one that has taken on significant new meaning after losing his wife, Jayne, to a brave battle with small cell lung cancer.

Pinkie is a tribute to Jayne and a moving symbol of cancer awareness. On the first anniversary of Jayne's passing, Joe's good friend and boss, Phil Lagan, had an idea. Here's Phil: "One day I was going through an order of trucks, and I woke up and said we should do something here for Joe and Jayne. We should paint one of the trucks, pink. We'll do a corporate sponsorship. I'm going to hit up all of my suppliers and I'll donate the money to wherever Joe wants it to go." "He sprang it on me in a text message," says Joe Demoors. "The message read: I ordered a truck and I'd be honored if you took it over. Then, later that day, I receive a phone call from Volvo saying you ordered a pink truck. I knew there had to be a story behind this."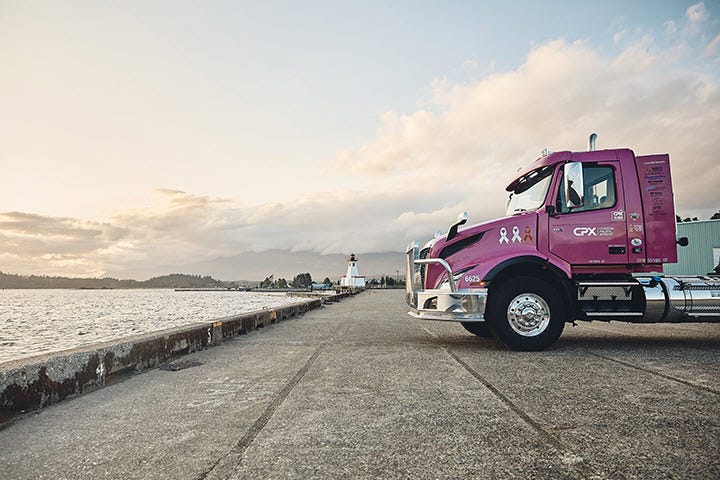 Pinkie makes her entrance

At first glance, Joe wasn't quite sure how to react. "The day the truck arrived, I pulled up to see it and I said 'Oh my god that is the pinkest thing I've ever seen in my life.' But as it took shape I began to recognize how awesome it really was." Now, after grieving for Jayne, his high school sweetheart and the love of his life, Joe feels fortunate that he gets to carry her with him wherever he goes. "Each day I drive Pinkie, I feel like I am honoring Jayne's memory. I think she would be really proud," says Joe. "She'd be proud that we are doing a tribute to her and trying to raise awareness for cancer—a horrible disease in need of a cure."

Joe Demoors met his future wife, Jayne, while still in high school. They were introduced through Joe's best friend and the pair was together five years before getting engaged at Christmas time. "I remember wrapping the tiny ring box inside a bigger box and then an even bigger box," says Joe. "We were at her parents' house and when she unwrapped and unwrapped and unwrapped the ring, it was a surprise for everyone. But she said yes!" That was in 1985 and the couple was together for 33 years, until Jayne's passing in August of 2018. "Our marriage was one of those loves you didn't have to work at. It was just there."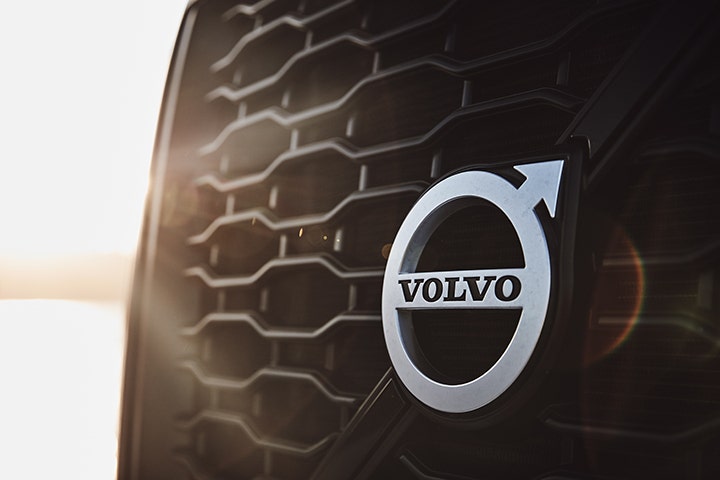 Honk if you want to be a trucker when you grow up

Joe, like so many of his contemporaries on the open road, always knew he wanted to be a truck driver. "Well, it was always going to be one of two things—mechanic or truck driver," says Joe. Growing up, he had fond memories of encountering some of his sister's friends who were drivers and being completely awed by their embrace and embodiment of the truck driving lifestyle. Even movies like Duel with Dennis Weaver, Black Dog or the TV show B.J. and the Bear all made an indelible impression on Joe in his early life. He says: "I so wanted to be a part of that. I remember as a kid seeing truck drivers on the road and getting them to fist pump and honk their horns. That was awesome."

"When I first started out, I tried the mechanic thing and it didn't work out." He adds: "But then, I had an opportunity to earn my Class I license." Joe soon discovered that breaking into the trucking industry in the way he envisioned wasn't going to be so easy. "Nobody wants to hire a new driver. They always want someone with experience, so I started out driving a moving truck just to get hours under my belt. I even drove a garbage truck for a while," he says. But, as luck would have it, Joe eventually got in with a truck and trailer company, hauling 200-pound slabs of beef to butcher shops and grocery stores. Joe's next gig would be his last.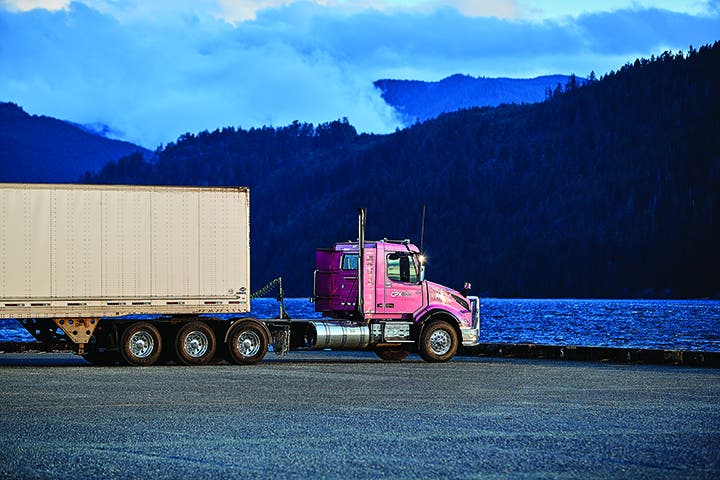 Joining the LTS Trucking family

Joe got involved with Phil Lagan and LTS Trucking in 2003 and he has been driving for them ever since. "Phil's the best boss I've ever had," says Joe. "He treats me like family. In fact, a lot of drivers have been with him more than ten years, which to me says a lot about Phil. After Jayne passed, the whole company rallied around me, even people as far as Alberta reached out, which says a lot about the culture of our company." In 16+ years with LTS, Joe speculates that he has probably done every job at the company: dispatching, loading and unloading the barge, even running the warehouse. But driving is his true calling. "There are no banking hours when driving a truck. It's a lifestyle!"

Typically at LTS, there are two drivers to a truck — a morning driver and an afternoon one. Pinkie is the exception as Joe is the only one who gets to drive her.
A typical day starts out around 8 a.m. Joe's routine involves walking around the truck for a quick, pre-drive inspection. Then, from his special parking spot, he takes Pinkie into the wash bay to get her all cleaned up. "Run it may, shine it must" as they say. After that, Joe gets in touch with dispatch for his first assignment of the day. His route, from Port Alberni to Nanaimo, is approximately 200 km round-trip and he'll often do two to three runs in a day. "If given the choice I would do three a day. It's such a peaceful drive," Joe says.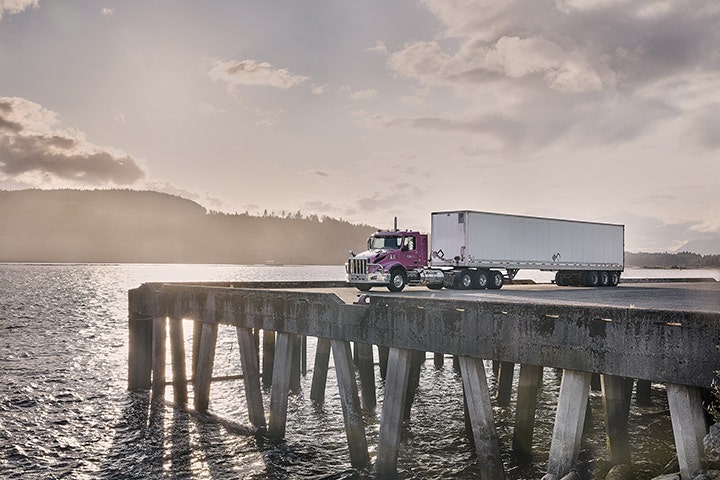 All pink. Zero compromise.

When it's time to go to work, Joe and Pinkie get it done. Beyond her distinctive look, Pinkie is a 4th generation Volvo VNX built specifically for heavy hauls, delivering up to 505 hp and 1,850 lb-ft of torque. At LTS, the company's old semi-automatic tandem trucks would max out at around 28,000 kg. Whereas with Pinkie, they can go as high as 35,000 kg (55,000 gross) per haul. For the company, this means less traffic on the road, less fuel, less pollution, and fewer trucks to maintain. Moreover, what used to take five regular loads now only takes three tri-axle loads in Pinkie.

Joe describes his 90-minute route as "a tight, twisty mountainous road with tough conditions." Coming into Port Alberni, the road is a 6% grade, and 8% coming out. In some places it can be as steep as 18%. What's more, on a single 100 km drive, a driver might encounter sun, rain, hail, and snow. But Pinkie can handle it with ease according to Joe. "When you compare the drive experience of Pinkie to some of our older trucks, the step up is huge. Not only is there more than enough power flow to handle the load, the truck is just quieter and smoother overall. The steering maneuverability is a nice upgrade. Shift patterns are easier. Bigger windows make it easier to see blind spots. And the extra room in the day cab is a really nice touch. Not to mention all the controls are right on the steering wheel. I don't have to reach."

For Joe, the best part of his run remains the scenery. He thinks about the huge Douglas Fir trees at Cathedral Grove, in MacMillian Provincial Park, and the still beauty of Cameron Lake. "When it's calm on the water, the mountain is like a mirror on the lake," he says.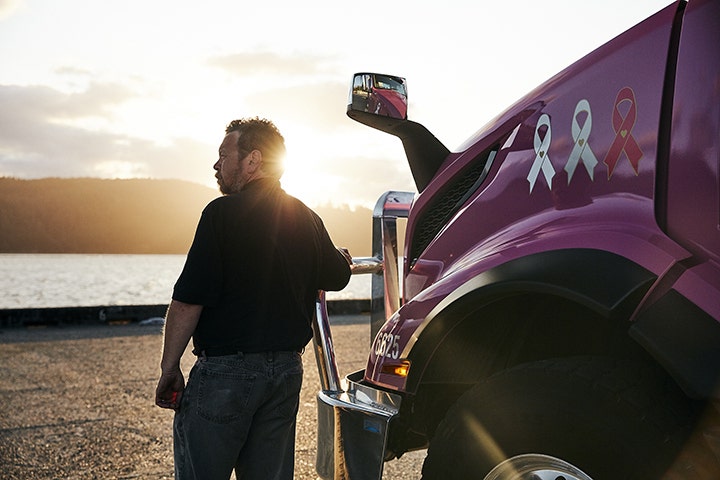 Striking a pose for cancer

"I am constantly getting asked by people if they can take selfies with Pinkie and I am always up for it," says Joe. "If Pinkie has a positive effect on someone then not only have I honored Jayne, but also I have fulfilled my mission to raise cancer awareness and move us all one step closer to a cure."

Martin Luther King, Jr. once said that the quality, not the longevity, of one's life is what is important. "I've had quite a good life," says Joe. "Now, each day, Pinkie empowers me to give my life even deeper meaning by lifting up others. And I don't have to do it alone! As the slogan on the hood of my truck reads: the strongest person I know now watches over me."
"If Pinkie has a positive effect on someone then not only have I honored Jayne, but also I have fulfilled my mission to raise cancer awareness and move us all one step closer to a cure."
Joe Demoors, Career Truck Driver with LTS Transportation
Related Content
Driving Progress
Get the latest product information, Volvo Trucks news and updates delivered. Sign up below.
ExceedingExpectationsSignup