Off to a Great Start
Dealers implement a premium vehicle handover process
Customers taking delivery of a Volvo tractor this year can expect to be treated like VIP's.
Dealerships across North America are now offering a world-class experience for every individual, whether they represent a fleet or run as an owner-operator.
"I think this kit of materials is just fantastic. I take the Volvo materials, combine them with our own branded materials, and it's a really professional united approach," says Roy Peters, GM for Affinity Truck Center in Bakersfield, CA. "Our customers absolutely love our combined kits of materials, so much so that if they take delivery of 5 trucks each month they want the kits each time."
The enhanced process is the result of a two-year pilot program where each element of the handover was refined.
"We spoke with customers and looked at all the ways we could improve," says Volvo Trucks NA director of marketing Fredrik Klevenfeldt. "Their insights led us to develop new, practical explanations of truck features and a comprehensive look at service and warranty coverage. Each handover now also includes personal touches such as a celebratory gift, as well as a meet your team contact card and an in-depth dealership tour to make introductions to those team members. Our goal is to start the relationship in a first-class manner, where the customer feels how much we value the partnership."
Even after receiving the keys, customers continue to get an upgraded introduction to their vehicle through the new "Meet Your Volvo" video series. Fourteen new videos are now available at volvotrucks.us/trucks/meet-your-volvo highlighting key features to help drivers take advantage of the premium offerings in their Volvo truck.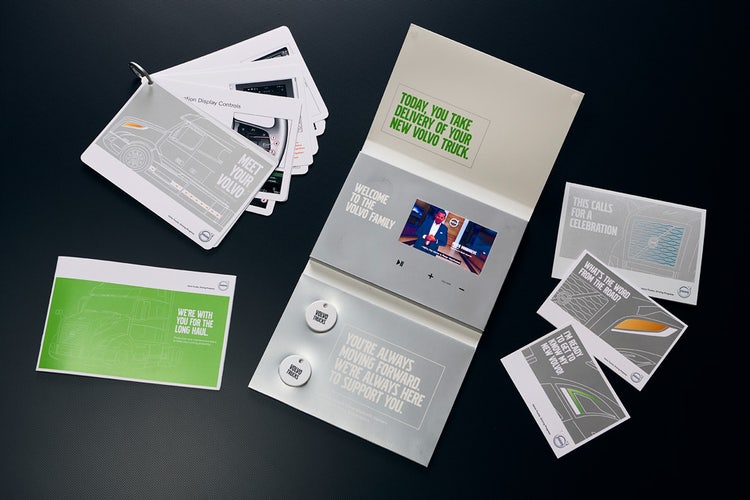 CAPTION: The new handover kit helps dealers provide a truly VIP experience for each customer.
Related Content
Driving Progress
Get the latest product information, Volvo Trucks news and updates delivered. Sign up below.
ExceedingExpectationsSignup