In its own pursuit of the American dream, family-owned VTS Transportation has found remarkable success by continuing to choose the most advanced trucking solutions to keep their drivers satisfied and costs low.
In 2006, Vlad Vinnichuk was working construction for big-box retailers like Home Depot and Lowe's, not liking the way the economy or, more importantly, his career path was going. Having recently immigrated to the United States with his family from the Ukraine, he believed he saw the possibility for a more promising future. "I told my father that I wanted to get into trucking, and two weeks later I had my CDL and I got to work." Vinnichuk drove relentlessly, saved up, and soon bought his first truck, which he found to be too noisy and uncomfortable for longer runs. He then test drove a Volvo truck and from that point on there was no turning back.
Working as a full-time driver, Vinnichuk drove across America, realizing both the beauty of his adopted home and his dream to do more for himself and his family. "I had the ambition to expand on what I was doing, thinking how I could turn this new life into a real business — hire more drivers, buy more trucks." He kept driving and saving and the next year he bought another truck. It then became his goal to buy a new truck and hire a new driver each year. By November 2012, he and his father were able to start their own business, VTS Transportation. They had five trucks, all being Volvo.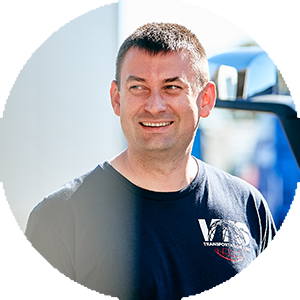 "When you see savings of 10 cents per mile, you realize the D13TC is just a good investment."
Vlad Vinnichuk
President at VTS Transportation
For Vinnichuk, a successful business starts with how you make your employees feel. As a driver himself, he understood first-hand how hard life on the road can be and how important it was to have the best in equipment and technology. By investing in Volvo Trucks from the start, he made a choice not to compromise on his drivers' comfort, safety or quality of life. It sent a message to his team right away that their needs mattered. "If the people you work with feel important, if they feel like family, they will make the business successful. Simple as that." His instincts proved correct, as the reliability and performance of his trucks and drivers continued to win new customers, allowing Vinnichuk to expand his operation to eventually include more than 100 trucks and drivers.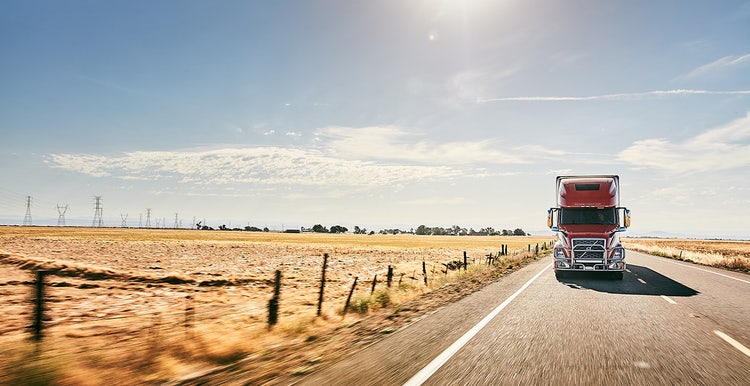 In 2017, concerns about rising costs brought Vinnichuk to the Volvo Trucks Customer Center in Virginia for his first look at the new VNL with a D13TC engine. "The experts there walked me through the advances they had made, the changes in design, the innovations behind the turbo compounding technology. I was impressed by the whole package, but what it came down to for me was two simple promises: More efficiency. More power." Available only for the VNL, the D13TC uses a waste heat recovery system to save fuel by capturing lost heat energy, improving fuel efficiency up to 7.5 percent — all while improving the engine's performance and driver productivity. Vinnichuk left the facility with an order for eleven VNL 760s, each with a D13TC engine.
Ed Sus has been a driver for VTS since 2010, hauling produce from California to Kansas and Missouri. He was attracted to driving for Vinnichuk because of the great reputation the company had. "I heard that they take care of the drivers. They give you the mileage. They give you whatever you need to be happy on the road and at home too." Since starting at VTS, he's only ever driven Volvo trucks and, as a believer himself, was more than willing to be one of the first to try out the new VNL. The truck did not disappoint, with Sus immediately impressed by the personalization made possible by the new features. "Whether it's the steering wheel, the cupholders, the dashboard, everything inside is adjustable and customizable." When asked about the impact the D13TC engine has on his driving, he is quick to point out how much quieter, more powerful, the new truck is. "For me, the VNL 760 is number one. It looks good. It's quiet. It's comfortable. It's easy to drive. I love it."
Sus was not alone. Vinnichuk says the response to the new trucks was just astounding, not only improving driver satisfaction, but decreasing his already low turnover rates. "A couple of our drivers who had been doing this for awhile were planning on quitting the industry altogether, but when they got the new Volvo trucks, they suddenly changed their minds." You can hear the pride in his voice when he mentions that almost all of the drivers who started with him in 2012 are still on the road for VTS. In fact, when it comes to the typical challenges of the trucking industry, such as high turnover or finding new drivers, Vinnichuk says he's never had a problem. "All drivers are really looking for good equipment. And they can't do better than Volvo trucks."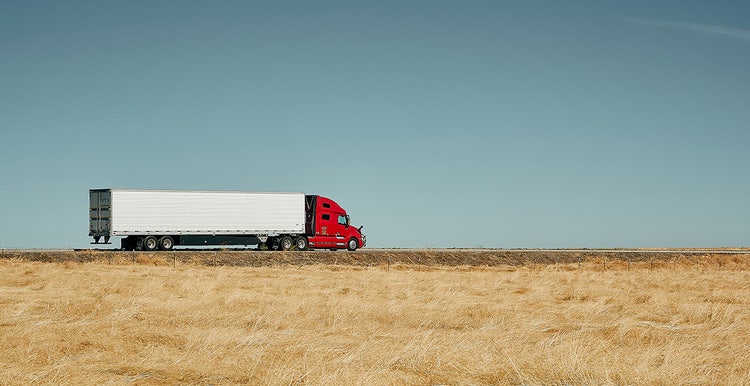 For VTS, with over 140 trucks on the road across the United States, continued growth has meant finding ways to increase efficiencies and save on costs. "Fuel is our second largest expense, hands down," says Vinnichuk. "So when Volvo told me that their new engine could significantly improve my fuel efficiency, I knew this technology would be the future of our business." With the integration of the D13TC, Vlad saw an average of ten cents per mile savings from previous models. "I couldn't believe how well the engines performed, but I've learned not to doubt Volvo when it comes to performance or results." In such a competitive marketplace, some owners might be reluctant to talk so openly about the immediate returns from the D13TC. Then again, Vinnichuk is not like most owners. "I have relatives and friends all over the country in trucking, and I will explain to anyone who will listen about the great savings from the D13TC, how much our drivers love the truck."
In less than a decade, Vlad Vinnichuk went from hanging sheetrock to becoming the president of a successful, quickly growing transportation company. As he reflects back on what his family has built and the success they've had with VTS, there is only gratitude in his voice. "America is a place with endless opportunities. I came here with no English, no higher education. I worked my way up and learned the important lesson of treating people with respect and fairness." That respect has meant better wages for his drivers, company-wide cookouts at his home and continued investments in the trucks they drive. But Vinnichuk doesn't like to dwell too long on the past. He has his eyes set on the road ahead, with the long-term goal of being the largest trucking operation in California. "Most of the big companies are all in the Midwest because of all the regulations and costs here. But this is our home, and I want to make our life and our business work here." What has certainly helped make his business work is the loyalty he shows his employees and his willingness to support a truck manufacturer that brings innovation to the industry. When asked if Volvo Trucks could make any changes to the VNL, Vinnichuk remarks, "They could send me more." It sounds like a simple enough joke until he points out that he's already made plans to order fifteen more.
D13TC ENGINE – "SIMPLY MORE."
A turbo compounding engine with its simple design of fixed turbine geometry reduces the chance of mechanical failure, meeting the 1.2 million mile B50 life of the engine with no extra maintenance required. It is the most reliable, fuel-efficient engine Volvo Trucks has ever built.
VTS TRANSPORTATION
Owners: Vlad Vinnichuk, Anatoily Vinnichuk

Number of Employees: 150+

Territories Covered: United States

Company Started: 2012

Vehicle Fleet: 141 TRUCKS. 44 VTS-owned (95% Volvo), the rest are owner-operated.

Major Customers: Costco & Walmart

Major Load: Meat & Produce
Related Content
Driving Progress
Get the latest product information, Volvo Trucks news and updates delivered. Sign up below.
ExceedingExpectationsSignup