AAA Cooper Transportation has been one of the largest less-than-truckload (LTL) haulers in the U.S. since 1973. The secret for the fleet that started in the 1930s is its commitment to equipping trucks with the latest technology for safety and efficiency.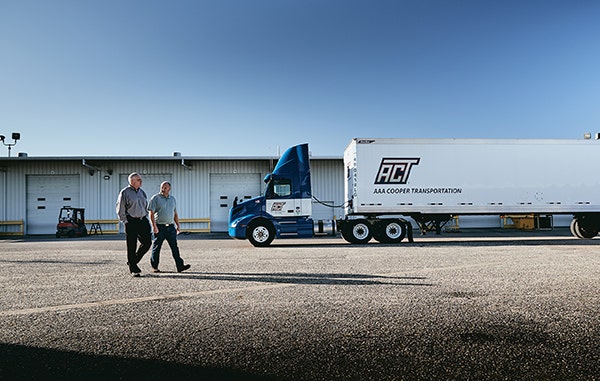 As a U.S. Army Black Hawk helicopter pilot, Steve Aronhalt learned that attention to detail, safety and management were just some of the keys to success for flying any mission during Operation Desert Storm. Today, as the vice president of safety and maintenance at Dothan, Alabama-based AAA Cooper Transportation, Aronhalt uses those same skills every day, especially when it comes to equipping trucks with the latest technology.
"A lot of the military has carried over to civilian employment," Aronhalt said. "And while this isn't aircraft, how you interact with people and how to get them to operate in a team environment and support each other for the success of the company works the same way."
Since he joined AAA Cooper in 2012, Aronhalt has put those military skills to use at the mainly LTL fleet, one of the largest in the United States with 2,600 trucks. And while managing and maintaining those trucks might not be quite as exciting as flying a Black Hawk helicopter, that experience plays a part in outfitting those trucks with the latest technology.
"We did it in order to improve our overall ability to act," he said. "To be a safer company, a more efficient company, and to retain our drivers."
The result? Accidents are down and business keeps growing, surpassing the $500 million mark in 2006.
A number of drivers have been there 20, 30 and even 40 years. But to Aronhalt, they are more than just drivers. They are an integral part of testing new technology, even prototype products. Each has a straight phone line to him and a couple of others at the company to let them know how the products are performing on a routine basis.
"Any significant changes we've made [in equipment], we've actually had the drivers provide feedback on test equipment first in order to help us understand whether or not we should make a total change," he said.
AAA Cooper started updating its fleet five years ago, and it's now running nearly a dozen safety-related and connected technologies on its Volvo trucks, plus aerodynamic packages and more efficient transmissions, most all from Volvo Trucks.
First on the list were automated manual transmissions and other powertrain advancements. Later the carrier added satellite tracking, electronic logging, inward and outward facing cameras, plus several other technologies that weren't even a dream when the company got its start in the 1930s.
After AAA Cooper began getting trucks equipped with Volvo's XE packages, which add high torque and Adaptive Gearing, Aronhalt said they helped improve fuel efficiency and continue to do so, making them a "great addition."
Aronhalt said the technology investments make AAA Cooper much safer and more efficient on the roadways. And those aren't the only reasons.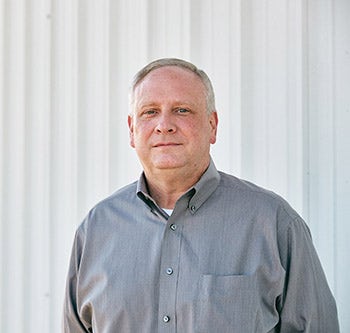 Since starting in 2012, Steve Aronhalt has work to implement the latest safety and efficiency technology into Triple A Cooper's fleet.
"The transmissions and everything else, we view that as a nice add because it's less fatiguing for the driver. Less wear and tear," Aronhalt said. The benefits have resulted in AAA Cooper today running a fleet that's nearly 100% Volvo trucks with Volvo engines and I-Shift transmissions.
"The first thing we appreciate about Volvo Trucks over other truck makes is the fact that it is a high-strength steel cab, which contributes to the overall crashworthiness of the truck, and that makes it safer for our drivers," Aronhalt said. Adding to that safety level is the integration of safety technologies. "The collision mitigation, lane departure warning, and all of those other items allow drivers to operate much more efficiently than something that's just kind of thrown on as an add-on component."
While all of this technology is important, AAA Cooper also pays special attention to aerodynamics. Currently, it's testing additional aerodynamics to reduce the gap between tractor and trailer as well as between trailers, to see if it improves fuel efficiency and reduces fuel consumption.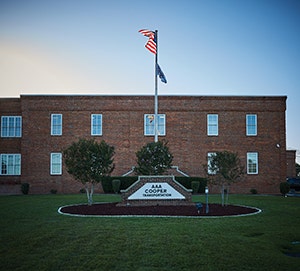 Based in Dothan, Alabama, known as the "Peanut Capital of the World", Triple A Cooper operates a fleet of over 2,600 trucks.
Then there is the truck interior. Aronhalt said the company doesn't look for what is fancy, but rather for things that makes it easier for the driver to focus on the road.
"Basically, anything in the layout, and even in the way of how we place our components, is done to make the truck less distracting and more ergonomic for how the driver is set up. Even the seats," he said, noting AAA Cooper specs its trucks with a more ergonomic seat, rather than a basic one.
All this is done, Aronhalt said, not only to make the driver comfortable, but also to create what he calls a clean layout for the driver displays.
"The less clutter, the less a driver has to search for things, and the more they can concentrate on the job in front of them," he said.
All this attention to detail is why AAA Cooper has been such a longtime customer of Volvo Trucks.
"We like the overall safety, the overall fuel efficiency, the reliability, maintenance and shorter downtime," Aronhalt said. "And the Volvo trucks have proven for us to be very long-lived trucks."
AAA Cooper keeps some of its trucks for many, many years. Despite a big upgrade in 2012, AAA Cooper has some Volvo models dating back to 2008 that have upwards of 2 million miles on them. Until last year there were a handful of Volvo tractors in AAA Cooper's fleet going back to the mid-1990s that were used for local pickup and delivery.
Some of these trucks are set to be replaced by the new Volvo VNR and VNL models, said Aronhalt. "We'll actually convert our spec over to both new pieces of equipment."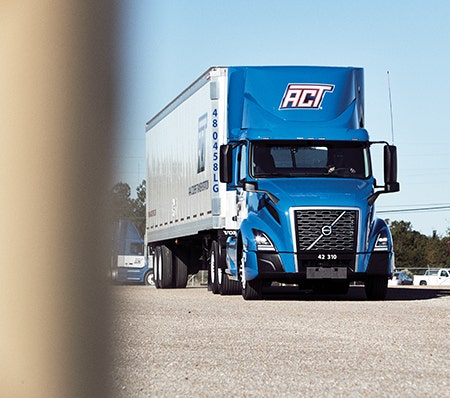 Triple A Cooper runs a fleet that consists of nearly 100% Volvo trucks. They recently implemented the new Volvo VNR and VNL models into their operation.
Helping AAA Cooper out with this change has been its local dealer, Action Truck Center, also located in Dothan, Alabama, just north of the Florida Panhandle. In addition to being very supportive of the fleet, Aronhalt said the people they work with at the dealer understand his and the company's needs, from spec'ing trucks to doing maintenance and repairs.
While handling everything from evaluating and implementing new truck technology and getting feedback from drivers on how equipment is performing, to considering how truck interiors and exteriors can affect operations, may seem like an armload to handle with each working day, Aronhalt is no doubt used to it.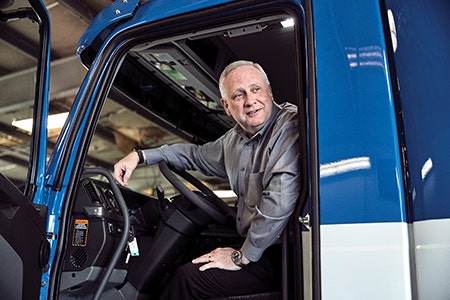 As a former Army Black Hawk helicopter pilot, he long ago became familiar with such attention to detail, management and other techniques to keep aircraft flying — and trucks running.
For AAA Cooper and Aronhalt, the mission, as he said, is simple: "To make sure we stay ahead of the curve, not just in trucks, but on everything."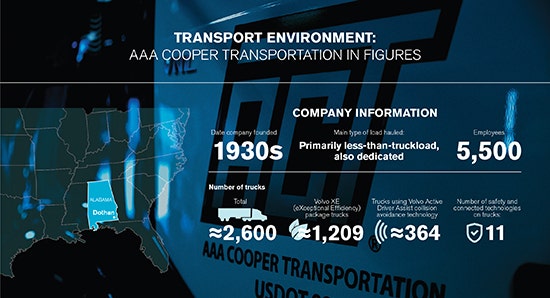 Related Content
Driving Progress
Get the latest product information, Volvo Trucks news and updates delivered. Sign up below.
ExceedingExpectationsSignup