80 feet: it's the length of the world's biggest toy box, specially built for a 16-ton Volvo VNL 760 with attached trailer.
Volvo Trucks captured the first Guinness World Records™ title for the largest object unboxed when an excited 3-year-old helped introduce the new VNL series to the world. In a short video released July 11, Joel Jovine opens the biggest toy box in the world – 80 feet long, 14 feet wide and 18 feet high. Inside is a 16-ton Volvo VNL 760 with attached trailer. After racing around the truck's exterior, Jovine climbs into the cab for a ride-along with a professional driver. The video was shot in May 2017 in Charlotte, North Carolina.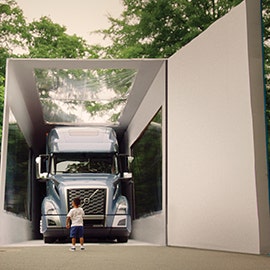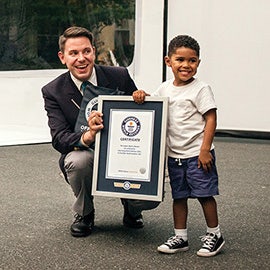 "He's absolutely crazy about trucks; the bigger, the better," said Joel's mother, Elizabeth Jovine. "He can't get more excited."
The box, made primarily of cardboard and cellophane, was modeled after the ones containing toy replicas of Volvo trucks. To be eligible for the Guinness World Records™ title, the box had to completely cover the Volvo VNL and be opened without using tools. Official adjudicator Michael Empric was present to certify the record.
"The World's Largest Unboxing" is the most-watched video ever produced by Volvo Trucks in North America, with more than 26 million views and counting.
Related Content
Driving Progress
Get the latest product information, Volvo Trucks news and updates delivered. Sign up below.
ExceedingExpectationsSignup