Volvo Trucks Introduces New VNR Series for Regional Haul to the Mexican Market
Volvo Trucks is invigorating the Mexican regional haul truck market with the introduction of the new VNR series, which debuted in Mexico today at Expo Transporte in Guadalajara. The VNR series was inspired by the modern professional truck driver and rapidly evolving demands of goods delivery. Signature features of the VNR series include its striking, aerodynamic exterior design, efficient Volvo engines and the I-Shift automated manual transmission, leading driver productivity and comfort features, and the safety of Volvo's legendary high-strength steel cabs. The versatile design and outstanding maneuverability make the Volvo VNR ideal for urban areas, pickup and delivery, liquid tankers, dry bulk, flatbed and other regional haul applications.

"Introducing the new VNR series in Mexico marks a giant leap forward for the market, which has historically lagged when it comes to equipment technology," said Göran Nyberg, president of Volvo Trucks North America. "We're committed to offering the most innovative, modern and competitive products to help drive progress for our customers' businesses."

Bold, Aerodynamic Exterior
The shape of the new VNR is designed to be as aerodynamic as possible, melding a family resemblance to the classic Volvo lines with the unique demands of a regional haul truck. With a 113-inch bumper-to-back-of-cab (BBC) length and improved sightlines over the hood, the new Volvo VNR was designed for increased maneuverability and versatility in tight spaces and urban traffic to complement its leading 50-degree wheel cut. Details like stamped steel bumpers that protect the lights and grille make it clear that the VNR is truly a work truck.

"The VNR model is a work truck, but it's a dynamic, premium work truck, and aerodynamics are greatly important within the regional haul segment," said Wade Long, director of product marketing for Volvo Trucks North America. "Regional routes often mean traveling at highway speeds, where aerodynamics becomes increasingly important."

Premium Driver Environment
The working environment of the Volvo VNR was designed to allow drivers to work more comfortably, productively and safely.

"Every innovation of the new Volvo VNR has been filtered through the driver's eyes," said Brian Balicki, Volvo Trucks North America chief interior designer. "We channeled the input of nearly 2,000 drivers and brought those thoughts and preferences to life through the VNR series."

All that research found its way into the new Volvo VNR driving experience and in countless details meant to make drivers' lives easier, like the Position Perfect Steering three-motion steering wheel that allows for more optimal vertical positioning to help reduce arm, neck and shoulder fatigue. New seats offer more adjustments to fit more drivers' shapes and preferences and bring comfort amenities like heating and cooling.

Designed for Safety
The VNR model features Volvo's high-strength steel cab and exceeds both the Volvo Swedish Cab Safety Test and ECE R-29 rollover requirements. In the event a crash would occur, an available side airbag for the driver's seat also helps protect the driver in a roll-over situation. The optional driver's seat airbag complements the steering wheel-mounted airbag, which is standard on the VNR.

Connected for the Future
The VNR series is equipped with Volvo's integrated connected vehicle hardware, providing connectivity for predictive diagnostics and monitoring of critical engine, transmission and aftertreatment trouble codes through Volvo's Remote Diagnostics.

Around-the-clock support of Volvo trucks is provided by the highly trained Volvo Action Service (VAS) agents at Volvo's Uptime Center. VAS agents monitor critical vehicle codes. If VAS agents detect an issue, they will assess the severity and provide the vehicle's designated contact with the information needed to decide whether to keep operating the truck or take it for immediate service. The entire service case process is documented and tracked through Volvo's ASIST online service management and communication platform, giving real-time visibility to case status, repair scheduling, and parts and service bay availability.

Integrated Volvo Power
The VNR series in Mexico will be powered by Volvo D11 and D13 engines certified at U.S. EPA04/Euro 4, the country's current emissions standard. Volvo GHG17 engines are an available option for trucks that will operate in cities where they're permissible and ultra-low-sulfur diesel and diesel exhaust fluid are available.

The new Volvo VNR series was designed and engineered at Volvo Trucks' North American technology center in Greensboro, North Carolina, and will be built at Volvo's New River Valley assembly plant in Dublin, Virginia, where all Volvo models for the North American market are assembled. Volvo engines and transmissions powering each VNR model will be produced at Volvo's powertrain manufacturing facility in Hagerstown, Maryland.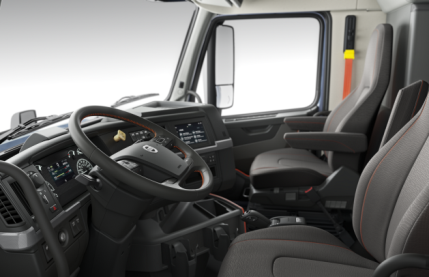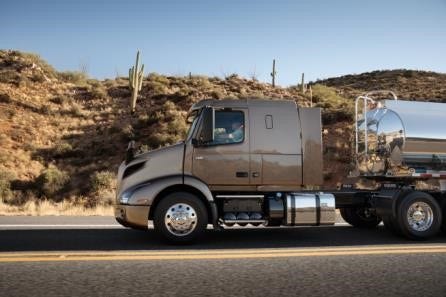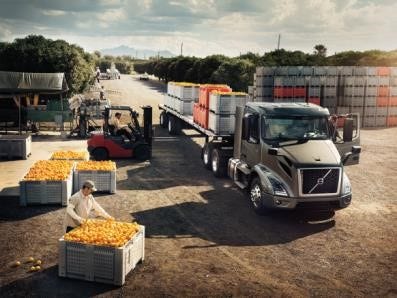 \
Volvo Trucks introduced the new VNR series to the Mexican market, marking a major leap forward for Volvo's regional haul presence. The VNR is available in daycab (bottom right) and regional sleeper (bottom left) configurations and feature driver-inspired driving and living environments.