Volvo Trucks delivers first canadian models equipped with 2017 engines to purolator
Volvo Trucks North America recently delivered 19 D13-powered Volvo VNL 300 models to Ontario-based Purolator, marking the first Canadian delivery of trucks equipped with Volvo's new 2017 engines. Featuring a host of new technologies and improvements, Volvo's 2017 D13 offers enhanced performance and fuel efficiency for customers.
Our 2017 engines offer several engineering enhancements to deliver significant fuel savings," said Jeff Lester, senior vice president of sales for Volvo Trucks North America. "And we were able to do it without sacrificing power or performance, a win-win for our customers."
Purolator is one of Canada's leading integrated freight and logistics solutions providers, and currently operates a fleet of approximately 460 power units, of which more than half are Volvo models. Purolator is headquartered in Mississauga, Ontario, with more than 170 operations facilities, 124 shipping centers and 900 authorized shipping agent locations across Canada.
"We depend on our fleet of more than 4,777 vehicles to deliver goods to our customers throughout Canada on time and in a safe and environmentally responsible manner," said Serge Viola, director, asset management, Purolator. "Our new Volvo VNL models equipped with Volvo's 2017 D13 engine will help us accomplish this through the 2017 advancements."
Already one of the industry's most fuel efficient 13-liter engines, the 2017 D13 received a number of updates for 2017 to improve efficiency by up to 2.5 percent compared to the previous D13. A patented wave piston design helps maximize fuel efficiency by improving flame propagation, while a proven common-rail fuel system enables finer control of the fuel injection, allowing for faster, more accurate injection.
The D13 also features an updated EGR flow sensor with a new double-wall casing, helping reduce condensation and soot buildup in cold weather, while an improved aftertreatment dosing module has been integrated into the fuel filter housing for easier serviceability. Upgrades were also made to the two-speed coolant pump, helping to reduce parasitic losses.
Purolator's new Volvo models are also equipped with Volvo's latest 12-speed I-Shift automated manual transmission, a key component of Volvo's integrated powertrain. The updated I-Shift models received improved hardware for increased durability, as well as an upgraded countershaft for faster shifting and improved performance.
The Volvo I-Shift is equipped with sensors to identify factors such as load, road grade and more, enabling the transmission to ensure the truck is in the right gear for the conditions. Without a traditional clutch pedal to operate, the I-Shift helps improve driver attraction and retention by reducing fatigue during the work day. The I-Shift also contributes to safety, as drivers are able to maintain focus on the road ahead.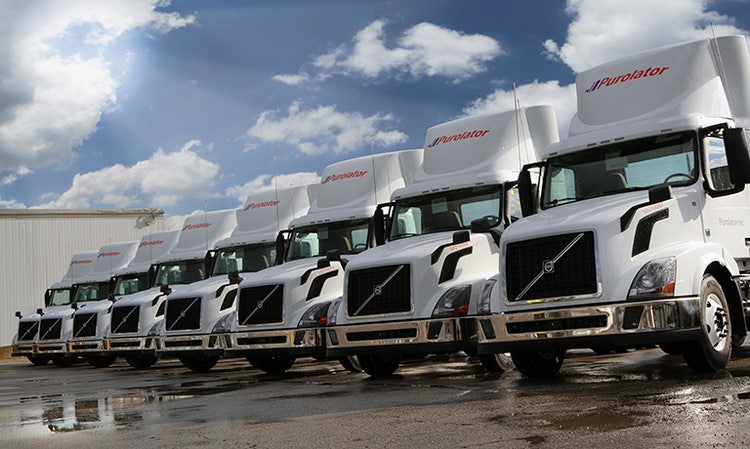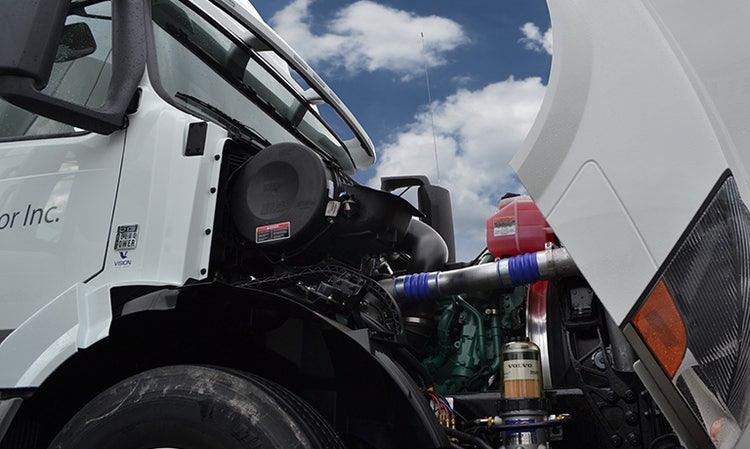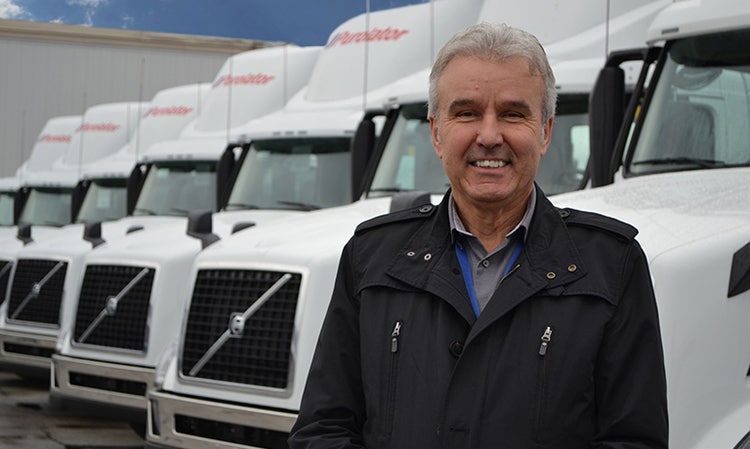 Ontario-based Purolator recently took delivery of 19 Volvo VNL 300 models (top), marking the first Canadian delivery of trucks equipped with Volvo's new 2017 powertrain (middle). Serge Viola (bottom), director, asset management, Purolator, poses with several of the new Volvo trucks, which feature the 2017 D13 engine and updated I-Shift automated manual transmission.