Volvo Trucks previews new Volvo VNR Regional Haul model
Volvo Trucks North America offered a glimpse of the shape of trucks to come today with two preview videos for its new Volvo VNR regional haul model.
"The VNR is wholly reimagined inside and out. It melds a modern, connected workspace inside the cab with bold exterior lines and optimized dimensions for maximum efficiency. This is a truck built to deliver the versatility our customers need to face the challenges of the rapidly evolving North American freight network" said Göran Nyberg, president of Volvo Trucks North America. "We expect that the VNR's bold, dynamic appearance will change antiquated perceptions of what trucks should look like."
To gauge impressions of the VNR's streamlined exterior styling, Volvo Trucks recently offered a sneak peek to a few people—none of whom are actors, most with no connection to the trucking industry—and filmed their reactions.
Click here or here to view the responses to the new VNR model, or visit https://youtu.be/HtMPedRv6vc and https://youtu.be/Zj9uCiLY_Js.
Volvo Trucks has been adopting automotive features to help make driving freight vehicles easier and created a state-of-the-art driving environment to help attract more drivers to the industry. New features include a proprietary steering wheel that tilts like a car's—the first and only one in the industry—more ergonomic seats, an advanced infotainment system and a new instrument cluster with many new functions in the driver information display.
An updated version of the Volvo I-Shift automated manual transmission and Volvo's I-See predictive cruise control that memorizes road topography help shift more efficiently. Enhanced passive safety features and Volvo Active Driver Assist makes the new Volvo VNR the safest Volvo ever. All these are features designed to make it easier for drivers to focus on the road.
Designed and engineered expressly for regional haul applications, the new Volvo VNR delivers a street-smart blend of performance and agility. It was developed to be adapted to bulk transport, flatbed, liquid tankers, port drayage, and other urban pickup and delivery operations.
"Volvo as a brand has always been innovative. We're always driving progress," said Nyberg. "Especially in this new Volvo VNR, we wanted to apply technology to meet specific needs articulated by our customers. We're giving them a better tool to apply to the complexities of their regional haul applications."
The new Volvo VNR will make its public debut April 20 at ExpoCam in Montreal.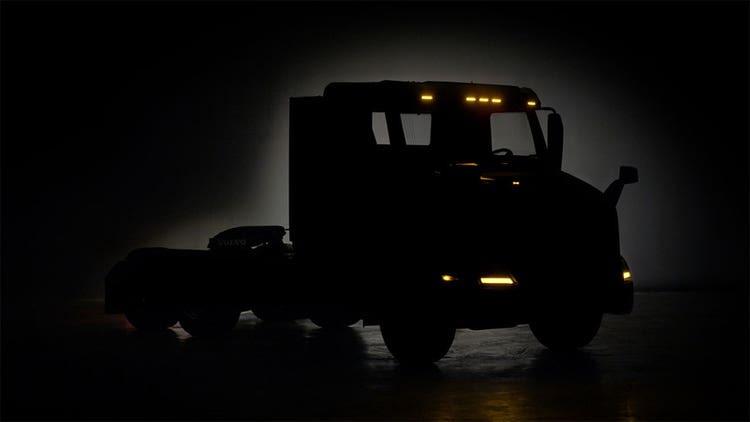 Volvo Trucks North America will define the shape of trucks to come with its upcoming introduction, April 20, of the new Volvo VNR model, designed expressly for regional haul applications.

Coming April 20
The New Volvo VNR Series