The Volvo VNR is designed for the maneuverability and visibility needed to navigate crowded urban cities.
Even the most skilled drivers find operating trucks in city and urban environments a challenge. That's why customers are excited about the Volvo VNR's improvements in maneuverability and visibility, giving an advantage to drivers navigating tight spaces. By offering a redesigned, lower-sloped hood and reducing the corners by 4 inches, drivers gain the visibility and confidence to make those 90-degree turns. The VNR provides better maneuverability with its short BBC (bumper to back of cab) of 113 inches, allowing it to work itself into much tighter spaces than a longer tractor.
Chris Stadler, product marketing manager for Volvo Trucks North America, says he saw first-hand how well the VNR maneuvered through the city. He drove it through downtown Winston-Salem, North Carolina, and says he could make tight turns even with heavy traffic. "Being able to make the turn without having to go over curbs or barely having to cross over into the other lane was really impressive. I had the confidence to make those turns because of the increased road visibility and the corners of the truck made driving the VNR in the city much less stressful," Stadler says.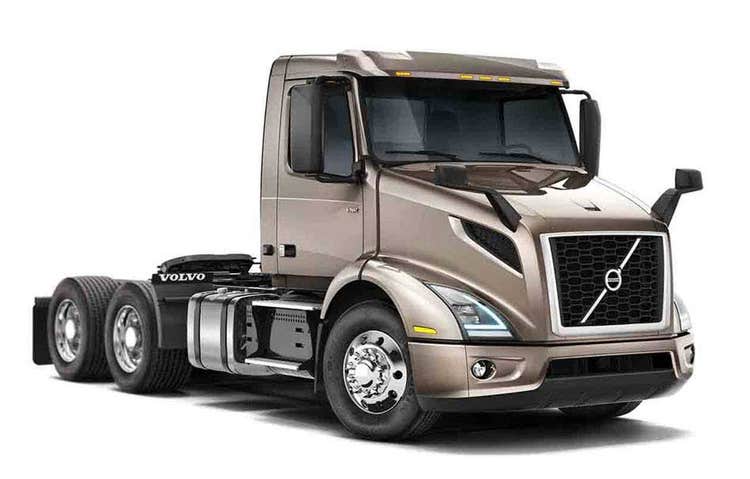 Because of the Volvo VNR's aggressive nose slope, the usual front-of-truck blind spots are reduced. Inside, all of the critical controls are within an easy grasp and the seamless windshield provides uninterrupted vision.
Stadler says adding the I-Shift automated manual transmission to the VNR in a city operation also contributes to improved maneuverability and is designed for frequent shifting and faster gear changes. "When you don't have to focus on shifting gears, you can keep eyes on the road and hands on the wheel."
As demand grows for regional trucks to be street smart, the VNR's Adaptive Loading is designed to improve traction during lighter hauls, by transferring all weight to the rear axle of the vehicle. The combination of the VNR with this axle configuration will continue to help with maneuverability, especially in light loaded conditions. From a full load, down to an empty trailer, this integrated and automated technology makes every driver a more efficient driver.
Position Perfect Steering Wheel
The neck tilt steering wheel adjustment adds more freedom to the standard tilt/telescoping column, enabling the driver to have a comfortable grip on the steering wheel and clear visibility of the gauges.
Dashboard
A well-organized dashboard combines easy-to-read gauges, a five-inch color driver-information display, and accessible controls close at hand. To keep the driver's hands on the wheel, multiple systems can be controlled through steering wheel-mounted switches. The touch-friendly switch layout enables cruise control, entertainment and other settings to be changed without diverting attention from the road.
Redesigned Hood
A short, sloped hood provides a commanding view and superior maneuverability when navigating through crowded and congested work zones.
Volvo Active Driver Assist
Able to control the truck's throttle, transmission downshifting, and brakes, Volvo Active Driver Assist helps drivers maintain a safe following distance. This safety system includes forward collision warnings and active braking, even for stopped vehicles in the roadway. Video data capture, side blind spot warning, and lane departure warning are also available as optional safety features.
Shorter Bumper to Back of Cab
The cab interior is thoughtfully organized to keep daily-route drivers productive, comfortable, and happy. An ergonomically optimized seating position is combined with a panoramic windshield and a short, sloped hood to provide a commanding view when navigating through congested city streets. With a wheel cut of up to 50 degrees and a BBC of just 113 inches, the VNR 300 delivers maximum maneuverability.
Volvo I-Shift
The latest edition of the Volvo I-Shift transmission includes upgraded hardware and software, greater durability, and countershaft brake for improved performance and smoother, faster shifting. Drivers can focus on the surrounding traffic and task at hand, while Volvo's automated manual I-Shift transmission reduces fatigue, is easy to use and is always ready with the right gear.
Related Content
Driving Progress
Get the latest product information, Volvo Trucks news and updates delivered. Sign up below.
ExceedingExpectationsSignup