The goal of zero accidents influences every design decision, starting with visibility
Safety is built into Volvo's brand heritage and is central to the company's identity. Volvo founders Assar Gabrielsson and Gustaf Larson were well known for their safety philosophy, "A vehicle is made by and for people. Thus, the basic principle of all manufacturing is and must remain safety."
Even today it drives Volvo Truck engineers to look at safety from every perspective, inside and outside the truck.
"In my mind safety is part of our brand DNA, so it's evident in everything we do. Safety is never far from our minds in the design process," says Alex Henriques, chief designer exteriors for Volvo Trucks North America.
" Safety is never far from our minds in the design process."
Alex Henriques, Chief Designer Exteriors
No accident is acceptable
In 2017, Volvo Trucks announced its global vision that no Volvo Truck is to be involved in a traffic accident. It's an ambitious goal and a first in the industry. It drives designers like Henriques to develop safer products and systems.
"There are the obvious technological advancements that we make to improve safety like Volvo Dynamic Steering or Automated Driver Assist, but safety can be improved in so many ways. Ergonomics can be a part of safety, simply making it easier to get in and out of the truck," says Henriques. "Visibility is a vital aspect. Our headlights are more focused and don't spill into oncoming traffic as much, making it easier for our driver to see while improving visibility for approaching vehicles as well. And the LED lights are easier on driver's eyes so there's less fatigueover the course of the route."****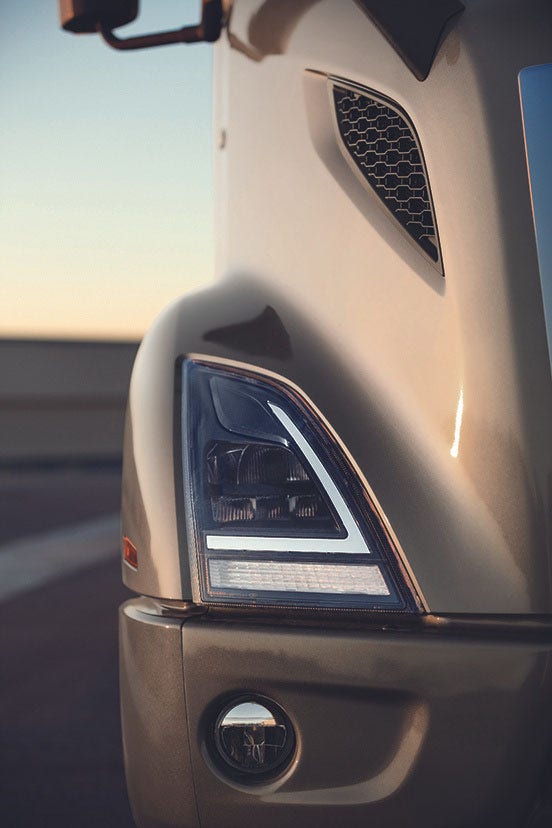 Volvo's next generation LED headlights are brighter and
illuminate further down the road, making it easier to see
potential obstacles in low light or at night.
New challenges ahead
The introduction of electric battery vehicles and other new transportation solutions means additional considerations for designers like Henriques. "With a product like the VNR Electric, we have new challenges. Now we are thinking about how to make the charging process simpler an safe. We are also thinking about how these quieter vehicles not only interact with the driver, but also with the traffic and pedestrians around them. It's an exciting challenge to make our vehicles more and more safe," he says.
With Zero Accidents as the ultimate goal.
Related Content
Driving Progress
Get the latest product information, Volvo Trucks news and updates delivered. Sign up below.
ExceedingExpectationsSignup