Move over, California. Volvo VNR Electric trucks are coming to the East Coast, thanks to the commitment and visionary leadership of Manhattan Beer Distributors.
Manhattan Beer Distributors, a New York-based distribution company, started out small, humble, and hungry. The company was founded in 1978—back before anyone was thinking of electric vehicles—working out of a 4,000 square foot warehouse, with one employee (Simon Bergson, President & Founder) and one truck. Oh, but so many things have changed in the decades since. Today they operate in more than a million square feet of warehouse space, employ 1,700 workers, and run a fleet of 400 trucks—with the most recent addition of five Volvo VNR Electric trucks.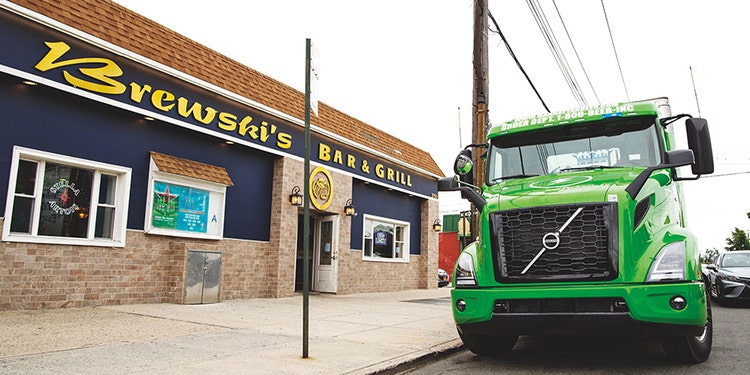 It is the purchase of these zero-emission vehicles that speaks to the success of Manhattan Beer Distributors, as well as their commitment to the future. "As one of the largest beverage distributors in the U.S., Manhattan Beer Distributors recognizes the broad sustainability impact that we can make by eliminating our fleet's tailpipe emissions," explains Bergson.
"Volvo Trucks has long supported our sustainability goals while providing the safety, performance, and reliability we've come to expect."
A History of Sustainability
More than twenty years ago, Manhattan Beer Distributors began the quest to reduce their carbon footprint and become better neighbors in their communities. Driven by a goal of reducing the company's environmental impact, they began building a low-emission fleet in the '90s, which today includes more than 160 Volvo VNR and VNL Compressed Natural Gas (CNG) Class 8 trucks.
They were the first company in the Northeast to convert a portion of their diesel fleet to natural gas and today more than half are CNG trucks. They also own one of the largest solar panel facilities in New York City. So, adding Volvo VNR Electric trucks was a natural evolution to their vision of lessening pollution, noise, and traffic on crowded urban streets.
"Volvo Trucks commends Manhattan Beer Distributors for continuing two decades of leadership in bringing the most advanced and sustainable commercial trucks to New York City," said Peter Voorhoeve, president of Volvo Trucks North America. "By working together with customers like Manhattan Beer Distributors that are dedicated to reducing their environmental impact, Volvo Trucks is making meaningful progress on the path toward widescale commercial deployment of VNR Electrics from coast to coast."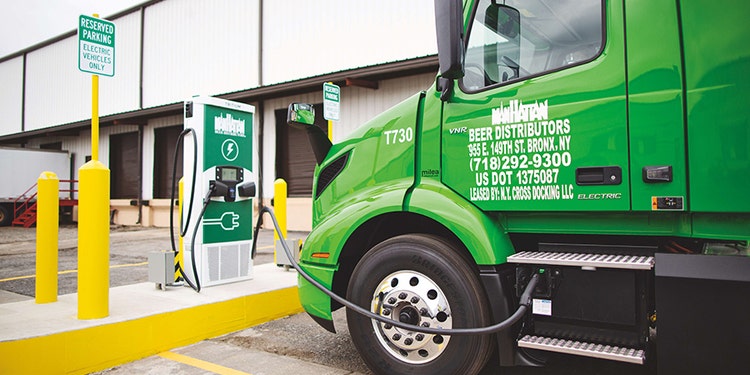 These VNR Electrics are perfect for Manhattan Beer's delivery routes. With a range of 275 miles on a single charge, the trucks can make their rounds throughout Brooklyn, Queens, Hudson Valley, Long Island, and the Bronx. Each truck can be recharged up to 80% in just 70 minutes before they're back on the road and delivering spirits to restaurants, bars, and retail shops.
Far-reaching Support, Close By
Milea Truck Sales and Leasing, a family-owned and -operated company established in the Bronx, delivered the trucks in August. The dealership, with locations in Queens, Brooklyn, and Westchester County, has made significant investments to upgrade its facilities to service battery-electric vehicles. They are now an EV Certified dealer with a dedicated service bay and infrastructure for charging. Their service technicians have also been fully trained and equipped to safely perform battery-electric truck maintenance and repairs.
"As Volvo Trucks' first Volvo EV Certified Dealer on the East Coast, we're excited to help our fleet customers make the successful transition to electric trucks in their fleet operations "
BARRY MILEA, PRESIDENT OF MILEA TRUCK SALES AND LEASING
"Volvo Trucks is the cutting edge of EV commercial product offerings and production, and the Volvo VNR Electric, along with the Volvo EV Certified Dealer program, is the gold standard."
A Hit With Drivers. Management. And the Community.
Drivers for Manhattan Beer Distributors typically spend eight hours in the stop-and-go traffic that defines New York City. So how do they feel about the performance of the VNR Electrics?
"Our drivers absolutely love the trucks. They're very smooth," explains Juan Corcino, Senior Director of Fleet Operations Sustainability. Juan says that drivers are often hesitant to accept change, or do something new, but this time it was different. "The drivers were very excited to try it and they loved the experience." In fact, after one of the very first drivers of these new Electric trucks finished his rounds, he radioed in that he wanted to just keep driving around.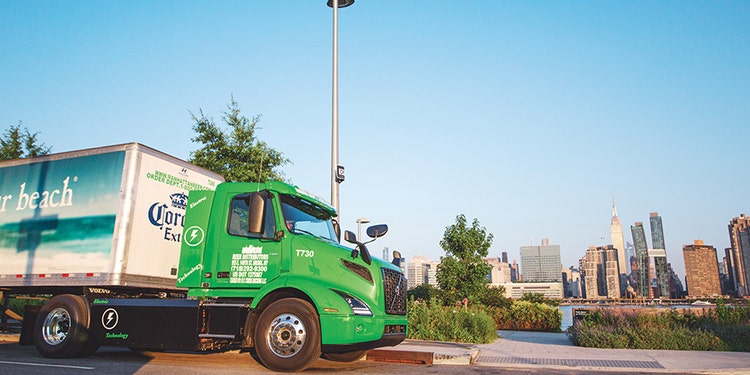 Company leaders are also impressed. "We've had virtually no maintenance problems," says Corcino. "It's everything we were expecting." Another benefit is that the trucks are charged on company property, so they don't have to use or rely on public infrastructure. Corcino also points out that the VNR Electric trucks are not only good for driver retention, they're helping attract new drivers at a time when it's hard to recruit. "We can't wait to get some more of these trucks. We're already doing the analysis, and the future looks good."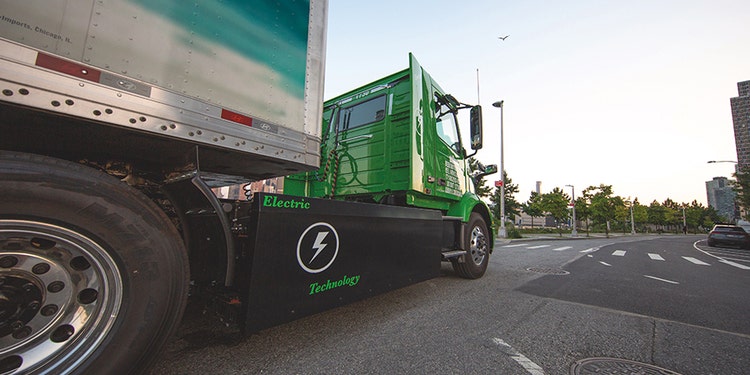 People on the street are taking notice of these new, quiet trucks in their neighborhood, too. In addition to lots of positive feedback on social media, Corcino sees their reactions first hand. "Often people get aggravated with big trucks and the racket they make, but we absolutely blend into the environment. People appreciate that there's no noise. You can see it in their faces."
The future is here. Only no one heard it coming.
Related Content
Driving Progress
Get the latest product information, Volvo Trucks news and updates delivered. Sign up below.
ExceedingExpectationsSignup