A vision to make smarter transport solutions has made Volvo Trucks a leader in connectivity and uptime services.
Today's Volvo models are fully connected, delivering a clear view of performance data to our customers and the specialists in the Volvo Uptime Center 24/7.
On board every new Volvo truck is the industry's most advanced telematics and real-time diagnostic system. Engine, transmission, and aftertreatment performance is transmitted and reviewed across our Uptime network. The fully integrated diagnostic package requires no additional hardware or software purchases. It's this data that allows for better decisions that keeps fleets on the road.
Reducing unplanned stops
The key to keep trucks rolling is having analysts that are experts in the equipment and ready to help around the clock. Our specialists in the Volvo Uptime Center can both look at the cause of a fault code as well as review the data from before and after the event. The additional information our team reviews is like watching a movie, instead of looking at a snapshot.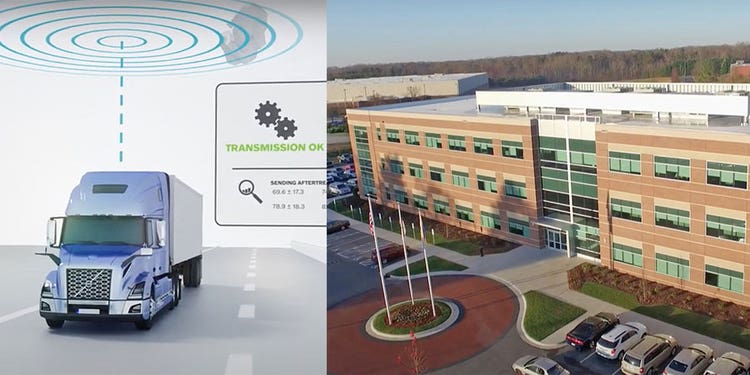 Nearly 50 advisors are on call at the Greensboro, NC based Uptime Center, ensuring that customers speak to an expert who can guide them step by step if an issue arises. Below: More than 430 dealer locations are available across North America, including hundreds of Volvo Trucks Certified Uptime Dealers.
Nearly 50 advisors are on call at the Greensboro, NC based Uptime Center, ensuring that customers speak to an expert who can guide them step by step if an issue arises.
Dealers and data
A network of more than 430 dealerships is available across North America. Certified Uptime Dealerships feature dedicated bays for repairs taking less than four hours, so quick repairs don't get caught behind longer jobs.
Information from the Volvo Uptime Center is automatically sent to the dealer so a technician can immediately use it to diagnose the truck and route it for the right repair.
The seamless integration of data, customer, and dealer is made possible through Volvo ASIST, the unique, web-based service management platform. It automatically populates truck and customer information for repair centers, while automatically notifying equipment decision makers when critical codes pop up. ASIST delivers all of the vehicle's pertinent diagnostic data to the repair center even before the truck arrives.
" There are nearly 700,000 Volvo trucks now connected globally and the figure is rapidly increasing, especially here in North America."
ASHLEY MURICKAN, VOLVO TRUCKS PRODUCT MARKETING MANAGER
Updates from the road
Better connectivity allows data to flow to the truck as well, making it possible to conduct software and parameter updates remotely. Remote programming allows drivers to update software and the industry's largest selection of parameters during regular breaks in their route. No need for an extra day in the shop or a stop at a dealership for routine updates. When an update is available, the driver display activation will flash an icon on the instrument cluster screen. The driver can activate the update at a regular stop.
The Remote Programming subscription is available on all Volvo trucks 2018 or newer, that are equipped with Volvo's Remote Diagnostics hardware.
An ongoing effort
All of this work is part of Volvo Trucks' ongoing strategy to keep customers' trucks on the road.
Related Content
Driving Progress
Get the latest product information, Volvo Trucks news and updates delivered. Sign up below.
ExceedingExpectationsSignup