Volvo Trucks Continues Expansion of Electromobility Ecosystem with 11 New Certified EV Dealers in North America
Volvo Trucks North America recently confirmed that 11 dealership locations in the U.S. and Canada have completed its vigorous sales and service training and facility upgrades needed to become Volvo Trucks Certified Electric Vehicle (EV) Dealerships, marking significant progress toward Volvo Trucks' commitment to advancing the electrification of the commercial trucking industry. The certification of Kriete Truck Centers in Wisconsin and Transport Equipment in Montana adds two new states to Volvo Trucks' already robust North American dealer support network for battery-electric trucks, which now includes 47 certified dealership locations across 22 states and three Canadian provinces, with some locations yet to be announced publicly. The announcement was made at the American Trucking Associations' (ATA) 2023 Management Conference & Exhibition in Austin, Texas.
"The continued growth of our Certified EV Dealership network underscores our commitment to providing customers the full ecosystem of resources they need to successfully adopt battery-electric vehicles, beyond just selling the truck," said Jared Ruiz, regional vice president – West for Volvo Trucks North America. "Earlier this year we announced that we had tripled the number of certified dealerships in just one year, and this rapid growth of our dealership network is still underway with these 11 new locations and more than 45 others in the process of completing their certification."
Dealership support is critical to the successful adoption of battery-electric trucks, and these additional Volvo Trucks Certified EV Dealership locations are strategically positioned to serve customers across the U.S. and Canada:
Coffman Truck Sales in Aurora, Illinois
Gerry's Truck Centre in London, Ontario
McMahon Truck Centers in Columbus, Ohio
M&K Truck Centers in Summit, Illinois
Mid-Ontario Truck Center in Maple, Ontario
Nextran Truck Centerin Kansas City, Missouri
Northwest Equipment Sales in Boise, Idaho
Kriete Truck Centers in Madison, Wisconsin
S&S Truck Sales in Lima, Ohio
TransEdge Truck Centers in Allentown, Pennsylvania
Transport Equipment in Missoula, Montana
The Volvo Trucks Certified EV Dealership program was designed to ensure the robust sales and service ecosystem required to support customers with the commercial deployment of Class 8 battery-electric trucks:
Each dealership location boasts a team of highly trained sales professionals with a deep understanding of the electromobility journey — from how to select the right vehicle configuration to securing available incentive funding and identifying ideal routes for electrification. Sales teams at Volvo Trucks Certified EV Dealers have access to a variety of route planning and connected technology tools designed to help customers maximize the performance capabilities and benefits of the zero-tailpipe emission Volvo VNR Electric model.
Service technicians have been fully trained to perform battery-electric truck maintenance and repairs and are equipped with the diagnostics tools and personal protective equipment necessary to work with high-voltage systems.
Certified EV Dealers are prepared to support the Volvo Gold Contract, Volvo Trucks' premier service offering for the Volvo VNR Electric model, which is a turnkey solution that allows customers to have operational peace of mind with battery-electric trucks and ensure peak vehicle uptime, performance, and productivity. To minimize service times and quickly get customers back on the road quickly, the dealers also maintain a stock of key parts and components for the Volvo VNR Electric model.
The Volvo Trucks Certified EV Dealer network spans 22 states — Alabama, California, Delaware, Florida, Idaho, Illinois, Indiana, Massachusetts, Minnesota, Missouri, Montana, New Jersey, New York, North Carolina, Ohio, Oklahoma, Oregon, Pennsylvania, Tennessee, Texas, Virginia, and Wisconsin — and three Canadian provinces — British Columbia, Ontario, and Quebec. Volvo Trucks is on track to certify 46 additional dealerships in 2023 and 2024 that will bring the total to 37 U.S. states and four Canadian provinces.
To learn more about Volvo Trucks North America and the Volvo VNR Electric, visit the company website. To find a Volvo Trucks Certified EV dealership near you visit the company's Find a Dealer page.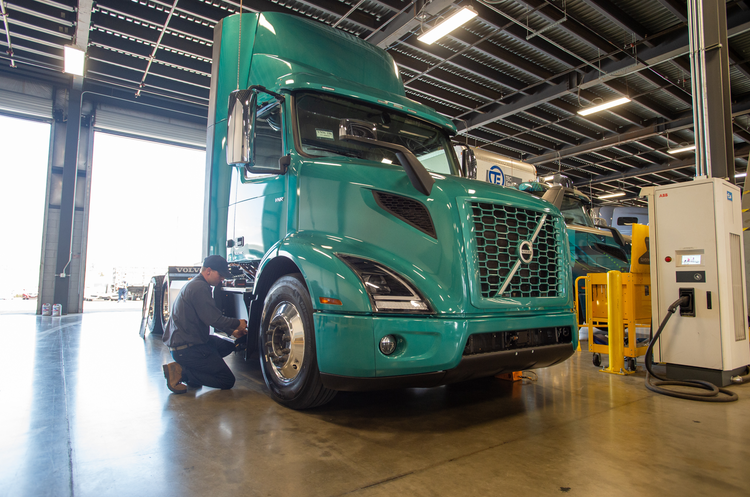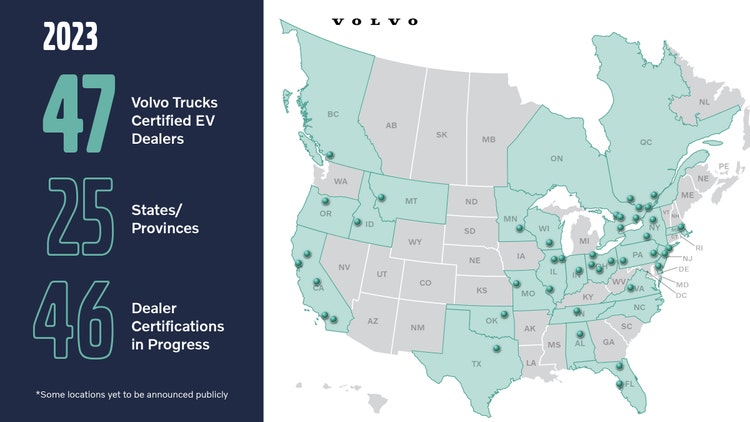 CAPTION: Volvo Trucks continues to expand its already robust North American dealer sales and service support network for battery-electric trucks with 47 certified dealership locations across 22 states and three Canadian provinces.