TEC Equipment – Portland Becomes First Volvo Trucks Certified EV Dealer in Oregon
Volvo Trucks North America announced that its largest West Coast dealer group, TEC Equipment, has completed the Volvo Trucks Certified Electric Vehicle (EV) Dealership training program at its fourth location in Portland, Oregon. TEC Equipment's Portland dealership, which also serves as its corporate headquarters, is Oregon's first dealership to achieve the certification, signifying that TEC's sales and service teams have completed the robust training required to support customers with deploying Volvo VNR Electric trucks. In July 2021, TEC Equipment – Fontana became the very first Volvo Trucks Certified EV Dealership, and 18 months later has the honor of being named the 25th in North America.
"TEC Equipment continues to be an excellent partner to Volvo Trucks in the introduction of electromobility solutions to heavy-duty fleets operating throughout the West Coast," said Peter Voorhoeve, president, Volvo Trucks North America. "We appreciate their ongoing leadership — from the deployment of the first Volvo VNR Electric in North America and the accomplishment of being the first Volvo Trucks Certified EV Dealership in the nation, to now supporting more than a dozen fleets in maintaining their Volvo VNR Electrics and certifying their fourth dealership location in a new state."
TEC Equipment - Portland has installed the necessary equipment and diagnostics tools for a dedicated EV service bay, as well as trained and equipped four technicians on their service team to manage maintenance and repairs. The dealership also maintains a stock of all the key parts and components required to maintain a Volvo VNR Electric to minimize service times and quickly get customers back on the road.
The Portland location is conveniently located along the I-5 corridor and will feature heavy-duty EV charging infrastructure to help support the state's growing zero-tailpipe emission vehicle goals. TEC Equipment's other Volvo Trucks Certified EV dealership locations include Fontana and La Mirada in Southern California and Oakland in Northern California. The organization is also working toward certifying its Dixon, California, location as part of the Electrified Charging Corridor Project.
"Our team has greatly benefited from all of the hands-on electromobility experience we have gained by working with Volvo Trucks and its Certified EV Dealership program. With the innovative technology tools that Volvo has developed to help customers evaluate the benefits of fleet electrification, our Portland dealership team is well-prepared to assist our customers through the Volvo VNR Electric sales process, as well as maintain their EV fleets," said Grant Small, vice president of operations, Oregon for TEC Equipment. "Oregon is among the first states to commit to adopting similar measures to California's Advanced Clean Trucks rule, and we are now fully ready to support area fleets in achieving their electrification goals."
To learn more about Volvo Trucks North America and the Volvo VNR Electric, visit the company website.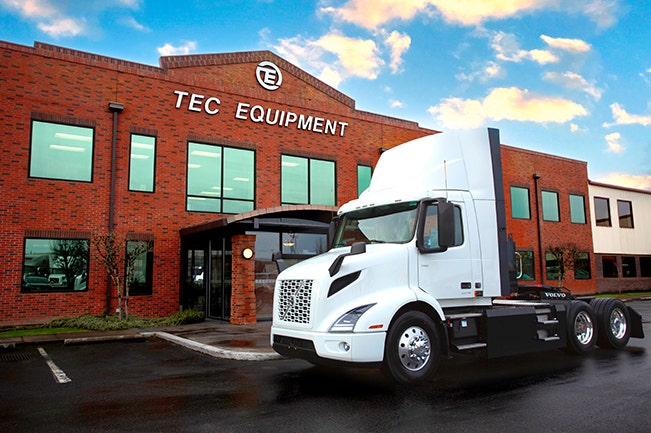 CAPTION: TEC Equipment's Portland, Oregon location was recently designated as a Volvo Trucks Certified Electric Vehicle (EV) Dealership, marking the dealership group's fourth location and Volvo Trucks' 25th location to complete the rigorous sales and service team training to support the Volvo VNR Electric.