Affinity Truck Center Becomes First Volvo Trucks Certified EV Dealer in California's Central Valley
Volvo Trucks North America has designated Affinity Truck Center's Fresno, California, location as a Volvo Trucks Certified Electric Vehicle (EV) Dealer, signifying that it is ready to support customers interested in adding Volvo VNR Electrics to their local and regional distribution, pickup and delivery, and food and beverage distribution routes. Located in the heart of California's Central Valley, Affinity Truck Center has been serving the region's transportation needs since 1980 and is now the first Volvo Trucks Certified EV Dealer in the region.
"The introduction of the Volvo VNR Electric, is only one part of what's needed for large-scale electrification to succeed. Another key component is a well-trained dealer support system, and Volvo Trucks is proud to welcome Affinity Truck Center and their staff's expertise to our growing list of Certified EV Dealers," said Peter Voorhoeve, president, Volvo Trucks North America. "In collaboration with Affinity Truck Center, we look forward to working with customers throughout Central California to achieve their zero-tailpipe emission transportation goals."
Affinity Truck Center's Fresno service team completed Volvo Trucks' robust training course to safely maintain and repair electric drivetrains and components, as well as invested in the necessary diagnostic tools. The dealership also began installation of heavy-duty-capable charging infrastructure to enable customers to charge at the dealership. The sales team is preparing to consult with Central Valley fleets who are considering investing in the Volvo VNR Electric.
In October, Affinity Truck Center supported Producers Dairy, a Central California-based dairy processor and direct-to-store supplier, with its order for two Volvo VNR Electric trucks — anticipated to be the first commercial battery-electric Class 8 trucks to be deployed in the region. Starting in early 2022, the VNR Electric models will begin to service Producers Dairy's fleet routes from its Fresno manufacturing facility to grocery stores in communities along the 40-mile stretch of Highway 99 from Selma to Madera, California.
"Our sales force is excited to work with our Fresno-area customers that are considering investing in any of the VNR Electric model configurations and are fully trained to help to achieve a seamless integration of battery-electric trucks into their fleet," said Kim Mesfin, president, Affinity Truck Center. "Our team of highly trained technicians can provide the full support and coverage of the Volvo Gold Contract, with unmatched service and uptime support, including stocking key parts and components for the VNR Electric model to minimize service times and quickly get our customers back on the road."
The Volvo Gold Contract is a turn-key solution that allows customers to have operational peace of mind with battery-electric vehicles. The service offering includes scheduled and preventative maintenance, towing, and vehicle repair, including the vehicle's lithium-ion batteries and the complete electromobility system, to ensure peak vehicle uptime, performance, and productivity.
To learn more about Volvo Trucks North America and the Volvo VNR Electric, visit the company website.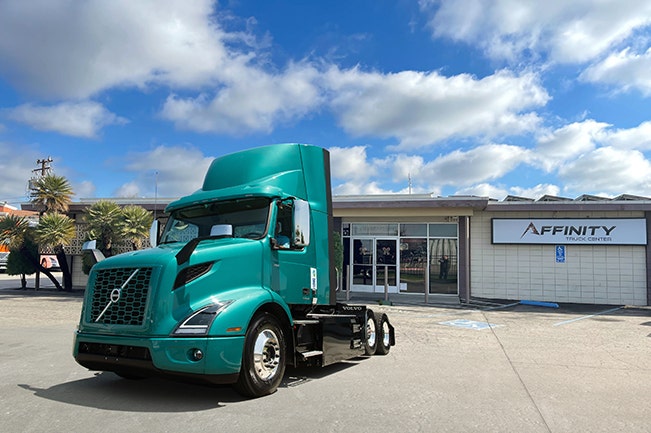 CAPTION: A Volvo VNR Electric outside of Affinity Truck Center which recently became the first Volvo Trucks Certified EV Dealer in California's Central Valley.