Volvo Trucks North America Customers Participate in 2019 Run on Less Regional Initiative in Volvo VNR Truck Models
C&S Wholesale Grocers, the largest wholesale grocery distributor in the United States, and Ploger Transportation, a leading regional carrier based in Norwalk, Ohio, participated in the 2019 Run on Less Regional initiative driving Volvo VNRs. The initiative culminated at the North American Commercial Vehicle (NACV) show.
The roadshow included 10 regional-haul fleets from across the industry seeking to demonstrate how increased fuel economy and transport efficiency is achievable in the regional-haul segment. The professional drivers were measured in real-time along their routes by a number of factors including miles traveled, fuel consumed, elevation changes, environmental factors, pickups and deliveries, vehicle speed and more.
"We selected the fleets for the 2019 Run on Less Regional initiative based on their history of efficiency and use of technology. We worked with them on routes, payload, and other considerations that represent the nature of regional hauling," said Mike Roeth, executive director, North American Council for Freight Efficiency (NACFE). "The results from this year's program can be used to educate the industry with real-world data, enabling other regional-haul companies and their drivers to increase efficiency and ultimately be more profitable."
The Run on Less Regional initiative featured a diverse group of carriers from across the country, driving truck models from various OEMs, tailored for their specific applications. C&S Wholesale Grocers driver Louis Scaruffi ran out-and-back deliveries to grocery stores across Louisiana, Mississippi, Alabama and Florida in a 2019 Volvo VNR 300 day cab with a Volvo D13 engine and 6x4 configuration. Ploger Transportation driver Travis Lauer ran similar routes, making out-and-back deliveries to various stores from Norwalk, Ohio to Dunkirk, New York with additional stops in Michigan in a 2018 Volvo VNR 640 sleeper with a Volvo D11 engine and a 6x2 adaptive loading configuration.
Scaruffi has driven over three million miles during his 42 years as a professional driver, spending 38 of those years with C&S. The veteran driver is fuel-efficiency conscious, using his long-term experiences on the road to efficiently navigate traffic and make calculated and proactive decisions on braking and accelerating. His driving skills, combined with the aerodynamic design of the Volvo VNR, Active Cruise Control (ACC) and 12-speed Volvo I-Shift transmission enables him to maximize efficiency. Scaruffi's 2019 Volvo VNR 300 also features a roof fairing, trailer skirts, fuel tank skirts, cab side extenders and a FlowBelow Tractor AeroKit for improved aerodynamics and fuel economy.
"C&S continuously evaluates our assets to determine how to add the most value to our operations, considering truck performance, efficiency, driver feedback and many other factors," said Chris Trajkovski, vice president, Transportation, Fleet Maintenance & Assets, Safety & Compliance at C&S Wholesale Grocers, which runs a fleet of approximately 85% Volvo trucks. "Data and feedback from Louis and other drivers, and the results of the Run on Less Regional initiative show Volvo trucks provide the ideal balance of performance and efficiency, using an appropriate amount of torque while optimizing for fuel economy."
Ploger driver Lauer, who started driving professionally at age 18 for the U.S. Army, has four years of experience driving heavy-duty trucks and has proven himself to be a savvy driver, utilizing technologies available in Volvo trucks such as the 12-speed Volvo I-Shift transmission with Eco-Roll and ACC to maximize fuel efficiency. Lauer's 2018 Volvo VNR 640 also features an automatic tire inflation system and PedalCoach MPG tool, which presents visual cues to optimize driving for improved efficiency. These factors, in addition to the Volvo D11 engine and 6x2 adaptive loading configuration, combine to optimize fuel economy on every run.
"It's hard to train people to drive as well as Travis does, but Volvo trucks make it easier for any driver to run more efficiently," said Shane Sattler, fleet maintenance manager, Ploger Transportation. "The trucks are already efficient before we put anyone in the driver's seat, but when you have someone as skilled as Travis behind the wheel, it improves efficiency even more and ultimately reduces overhead costs for our company."
"Volvo Trucks is thrilled to have our long-time customers C&S Wholesale Grocers and Ploger Transportation participate in the Run on Less Regional event in our regional Volvo VNR models," said Peter Voorhoeve, president of Volvo Trucks North America. "Both fleets have an excellent reputation for innovation, utilizing the latest available technologies, and their participation in this initiative is a testament to their commitment to furthering the best driving practices and efficiency. Additionally, the Run on Less Regional initiative highlights safe and experienced drivers, and with the reduced fuel usage, increases the sustainability efforts of our customers and positively impacts the environment."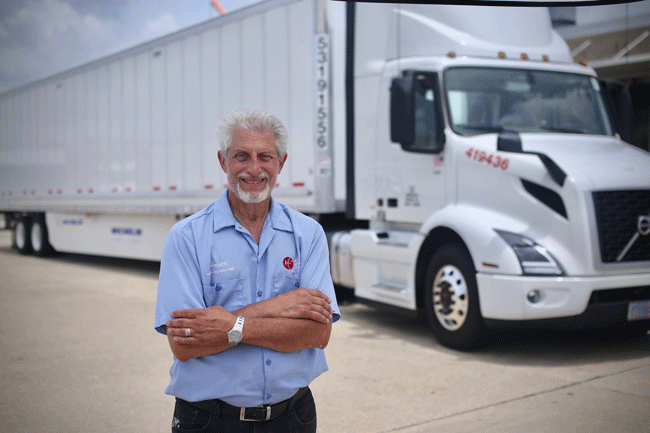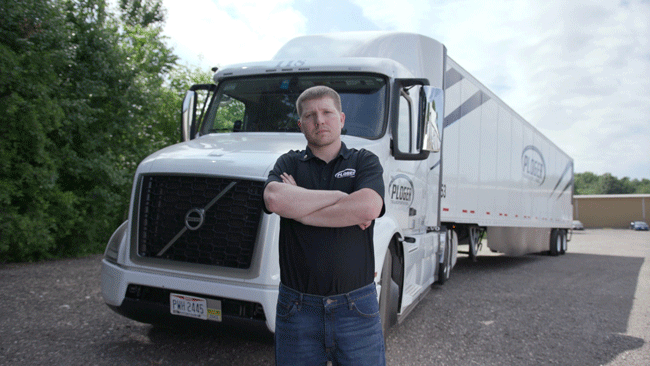 CAPTION: Louis Scaruffi of C&S Wholesale Grocers (top) and Travis Lauer of Ploger Transportation (bottom) participated in the Run on Less Regional initiative in Volvo VNR models, showcasing superior fuel efficiency in regional-haul applications.