Volvo Trucks' New VNR 660 Model Offers Lighter-Weight, Shorter-Length Solutions for Regional-Haul Customers with a new High-Roof Sleeper for Added Space and Comfort
Volvo Trucks North America introduces the new Volvo VNR 660 truck model, expanding its offerings for regional-haul applications with specs related to length, weight and driver comfort. The new VNR 660 will be available for order in the first quarter of 2020. The announcement was made on October 28, 2019 at the North American Commercial Vehicle (NACV) Show in Atlanta, Georgia.
In the trucking industry, transport companies need to adjust their operations to accommodate regulations such as federal or state bridge laws, length laws or weight limitations. The new Volvo VNR 660 offers customers a way to increase payload capacity while still satisfying certain length and weight requirements, and also features a sleeper cab; a unique feature for truck models optimized for regional haul.
"The new VNR 660 truck model addresses the needs of regional-haul customers looking for ways to increase payloads by decreasing the weight of the vehicle and enabling the use of longer trailer sizes without sacrificing efficiency," said Chris Stadler, product marketing manager at Volvo Trucks North America. "This new model also offers the comfort and extra space of a high-roof sleeper, increasing driver comfort."
The new Volvo VNR 660 features a shorter, 164" bumper to back-of-cab length that offers both weight savings from decreasing the overall size of the truck and the option to use more versatile tractor-trailer combinations for increased cargo capacity.
As an extension of the Volvo VNR product line, the new Volvo VNR 660 combines a high-roof configuration with a 61-inch sleeper that will comfortably accommodate an extra person for an overnight stop, making it ideal for local and regional routes that utilize team drivers. There is ample room for a refrigerator, microwave and television with storage above the driver and passenger seats. The new VNR 660 is available with the Volvo Premier Trim package, which includes wood-grain trim for the dash and cabinetry.
Other advantages of the new Volvo VNR 660 include the shorter hood design of the VNR product line, providing optimized visibility for the driver and excellent maneuverability in urban areas and easy docking in tight spaces. The new truck model comes standard with the Volvo D11 engine, the Volvo I-Shift transmission and Volvo Active Driver Assist (VADA) 2.0, the recently updated comprehensive collision mitigation system.
"At Volvo Trucks, it's critical for us to understand our customers' businesses and deliver solutions that increase their operational efficiency," said Stadler. "In addition to a truck that meets application-specific needs, our regional-haul customers want improved living environments inside the cab to attract and maintain professional drivers. The new VNR 660 certainly accomplishes those objectives."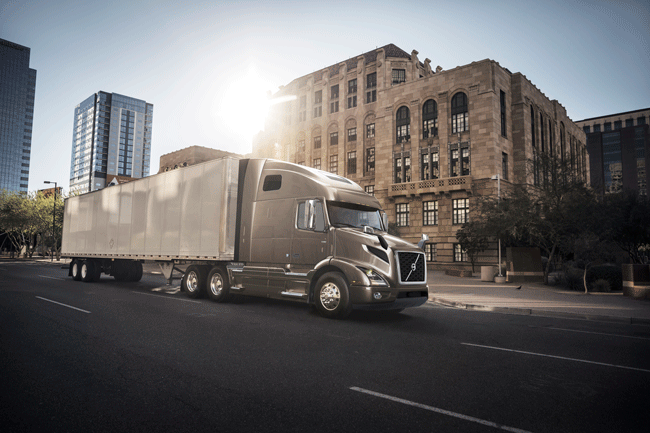 CAPTION: Volvo Trucks' new Volvo VNR 660 is designed for regional customers looking to meet length requirements, increase payload capacity and improve driver comfort.