Volvo Trucks Sets the Long Haul Standard in Mexico With Debut of the New VNL Series
Volvo Trucks debuted the new VNL longhaul series for the Mexican market today at Expo Transporte in Guadalajara. The groundbreaking VNL series sets a new standard for long-haul trucking operations and professional drivers through its dynamic exterior design, productivity boosting driving and living environments, active and passive safety innovations, and uptime-enhancing connectivity.

"Since its initial introduction in 1996 the Volvo VNL has been the premier long-haul tractor, and we're building on that legacy with the new VNL series, the best long-haul tractor we've ever built," said Göran Nyberg, president of Volvo Trucks North America. "We're committed to offering the most innovative, modern and competitive products to help drive progress for our customers' businesses."

Striking Exterior Design
Designers of the new Volvo VNL combined elements of Volvo's design language with dynamic new features. Swept back headlights include signature Volvo daytime running lights and frame a bold new Volvo grille and hood. Redesigned and repositioned engine air intakes allow for less turbulent intake air delivery. Airflow up and around the cab has also been optimized with new chassis and roof fairings.

Productivity-Boosting Driver, Living Environments
Productivity is directly affected by driver comfort, which is why the new Volvo VNL features an all-new dashboard that puts often-used controls within the driver's reach. Centered in the gauge cluster is a configurable, five-inch color driver information display that provides trip and diagnostic data. The driver information display is customizable, ensuring that critical information is always available to the driver at a quick glance.

The new Volvo VNL is also equipped with Volvo's smart steering wheel, putting controls for nearly all of the driver interface functions right at a driver's fingertips. The smart steering wheel is attached to Volvo's Perfect Position air-assisted, infinitely adjustable steering column, which enables drivers not only to tilt and telescope the steering column, but also tilt the steering wheel relative to the steering column. This lets drivers of all statures find the perfect steering wheel position and easily view the driver information display. A wide variety of seating options are available on the new Volvo VNL series. An increase in seat travel fore and aft, as well as up and down, improves driving ergonomics. Premium features like seat heating and ventilation are also available.

"We relied on feedback from nearly 2,000 driver interviews to make sure the changes we were making aligned with drivers' needs," said Jason Spence, Volvo Trucks product marketing manager – long haul. "The results speak for themselves: our new VNL features the most comfortable, driver-friendly environment we've ever built."

That comfort extends to the four sleeper cab configurations available in the new Volvo VNL series. Designed to provide drivers a comfortable place to rest after a long day on the road, the sleeper options are packed with a number of space-saving, comfort-boosting innovations. Additionally, an all-new, full 70-inch sleeper is available in the Volvo VNL 760 and 740 models, taking Volvo's legendary comfort to an all-time high.

Designed for Safety
The new VNL model features Volvo's high-strength steel cab and exceeds both the Volvo Swedish Cab Safety Test and ECE R-29 rollover requirements. In the event a crash would occur, an available side airbag for the driver's seat also helps protect the driver in a roll-over situation. The optional driver's seat airbag complements the steering wheel-mounted airbag, which is standard on the VNL.

Connected for Uptime
All Volvo VNL models come standard with Volvo Remote Diagnostics, Volvo's factory-installed telematics hardware that provides connectivity for proactive diagnostics and monitoring of critical engine, transmission and aftertreatment trouble codes. The same hardware also allows customers to perform powertrain software and parameter updates over-the-air with Remote Programming, which helps improve uptime and vehicle efficiency, while reducing downtime costs.

Support for Volvo trucks is provided 24/7 by highly trained Volvo Action Service (VAS) agents, who monitor critical vehicle codes. If an issue is detected, VAS agents will assess the severity and provide the vehicle's designated contact with actionable information to determine whether to keep operating the truck or take it for immediate service. All details from the service process are captured and tracked through ASIST, Volvo's online service management and communication platform. This gives the driver, customer contact and dealer real-time visibility to case status, repair scheduling, and parts and service bay availability. Remote Programming updates are also facilitated by VAS agents.

Efficient Volvo Powertrain
The new VNL series in Mexico will be powered by Volvo D11 and D13 engines certified at U.S. EPA04/Euro 4, the country's current emissions standard. Volvo GHG17 engines will be an available option for trucks that will operate in area where they're permissible and ultra-low-sulfur diesel and diesel exhaust fluid are available.

The new Volvo VNL series was designed and engineered at Volvo Trucks' North American technology center in Greensboro, North Carolina, and will be built at Volvo's New River Valley assembly plant in Dublin, Virginia, where all Volvo models for North America are assembled. Volvo engines and transmissions powering each VNL model will be produced at Volvo's powertrain manufacturing facility in Hagerstown, Maryland.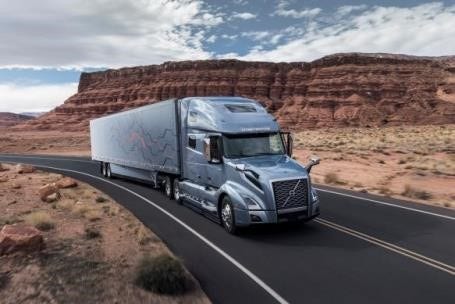 \
The groundbreaking new VNL series (top) sets the long-haul standard through its efficiency and driver-centric driving (bottom left) and living environments (bottom right), which help boost comfort and productivity.